On the Redeem page, Kudos Admins can Redeem Points for a User, customize your rewards, process pending redemptions or download a CSV report showing your organization's reward redemption history.
To access the Redeem feature, navigate to the Admin ⚙️
> Redeem.

Clicking Customize your Rewards will take you back to the Rewards catalogue where you can add, edit and manage your Custom Rewards.
Clicking Redeem Points for a User will allow you to remove points from a users redeemable points balance, in the event that they have received incorrect or accidental points.
❗️ It is important to note that points removed through Redeem Points for a User do not go through KudosRewards and you will not be able to chose a reward on behalf of the selected user.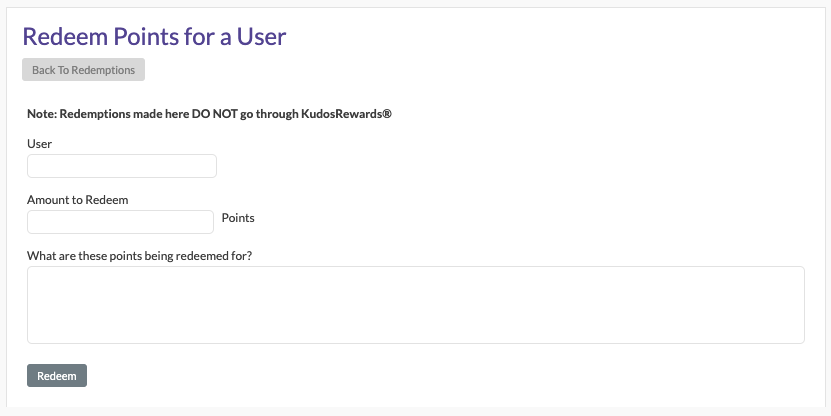 To process pending Custom Reward redemptions, click the bold & coloured reward description. Once you click Mark this redemption as completed a box will open up to allow you to customize the final email that will be sent to the requesting user. Here you will have the chance to specify special pick-up or redemption instructions and a congratulations note.

We hope this helps! If you have any questions, please reach out to us at support@kudos.com and one of our friendly team members will be happy to assist you.