Archiving is a very flexible way to manage your user base. You may want to archive users if they have left the company, were added by accident, or work as temporary contractors periodically. You can always reactivate a user if they return to your organization at a later date. Their recognition messages, badges and points will not be deleted but saved in the archive. Their profile information, including their password, will also be saved. To keep the history of your reporting and organizational KQ intact, it is not possible to delete a user from the Kudos® platform completely.
Archiving a User
To archive a user visit: Admin ⚙️
> User Admin > Users. Search for the user you want to archive, and click Archive to the far right of that user. Unlike full deletions, you won't be able to add another user with the same email address if you archive someone accidentally or if a user returns to your organization at a later date.

Reactivating a User
If you wish to reactivate (unarchive) a user, their information will come back as it was when they were archived. Their old password, messages, badges, as well as their profile information, will all instantly be restored. As an Administrator, you have the option to choose whether or not their previous points received are restored.
To reactivate an archived user go to Admin ⚙️
> User Admin > Users. Next, click in the search field to display the filters. Change the filter from Active Users to Archived Users Only and click the search button. The user information will display; please note it will be greyed-out, indicating they are archived. Click Activate.

A popup will appear with two options: Activate the user (their existing Redeemable Points will be reinstated) or Activate User AND Clear Redeemable Points.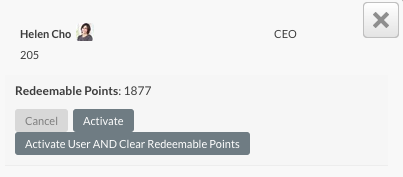 Archiving and Reactivating Users in Bulk
If you need to archive or reactivate several users at once go to Admin ⚙️
> User Admin > Users. Follow the instructions for downloading and reuploading your user data in this article: Editing User Information.
Once you have successfully downloaded your user data, you will need to edit the Archived column. Type the letter "Y" in the "Archived" column for the users you want to archive. To reactivate users, delete the entire content in that column (It will be the date that they were archived if they were already archived). Next, re-upload your edited spreadsheet on the Bulk Changes page, as per the instructions in the linked article above. The system will look for any changes and update users accordingly.
We hope this helps! If you have any questions, please reach out to us at support@kudos.com and one of our friendly team members will be happy to assist you.