Sent a Kudos with a typo? No worries! You can edit a Kudos up to fifteen minutes after it has been sent. Note: this will edit the Kudos message that appears on the Wall, but it does not edit the email that is sent out.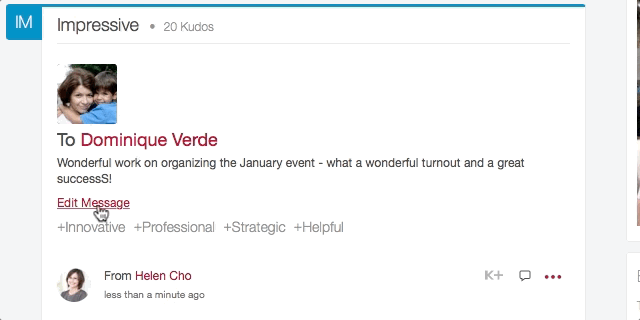 Removing or Hiding a Post from the Wall
If you would rather remove or hide the post than edit it, you can do so by Reporting the Message to Admin. Anyone can hide a message or comment by finding the '...' icon on the bottom right of the message. Clicking on this '...' icon will give you the option to click Report to Admin. This will make the message visible to Administrators, but hidden from the wall.
If you want to hide a post that you have sent or received, you can click on the '...' then click Make Post Private. Doing so will remove the post from the main Wall, however, it will still display on the personal Walls of the sender and receiver. 
Also, be sure to remember that if you send a message that needs to be removed from the Wall, the points you sent with it are not given back to you. 
We hope this helps! If you have any questions, please post a comment below and one of our friendly team members will be happy to assist you.