Using the Kudos add-in for Outlook makes it easier than ever to recognize your colleagues and stay up to date on your organization's Kudos activity!
If you are looking for how to use your Kudos for Outlook add-in, or if your organization has already installed the add-in for you, you can skip ahead to Using Kudos for Outlook to check out our tutorial video on sending Kudos through Outlook!
Setting Up Kudos for Outlook
If your organization has enabled Kudos for Outlook as an optional add-in, you can install the add-in on your own quickly and easily using the Microsoft AppSource.
To do so, begin by clicking the blue "GET IT NOW" button below the Kudos logo.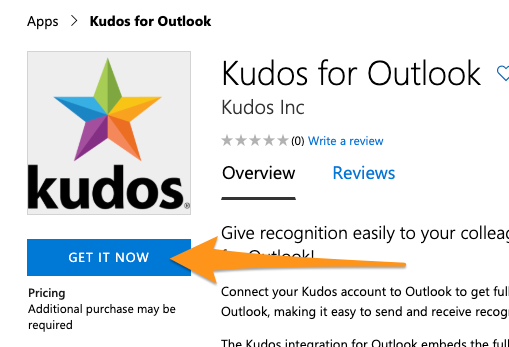 Once you have clicked this button, a modal window appears allowing you to sign in to your Microsoft account if you are not already signed in.
Once you are signed in, you will be asked to ensure your agreement with the Terms of Use and Privacy Policy. The modal also displays the email address of the Outlook account that is currently signed in.
Click "Continue."
After a few seconds, you will see a message on-screen that the add-in is being installed. Wait until you are presented with a green check-mark indicating that the add-in has been successfully installed. Once this appears, click the blue button which reads "Open in Outlook Web."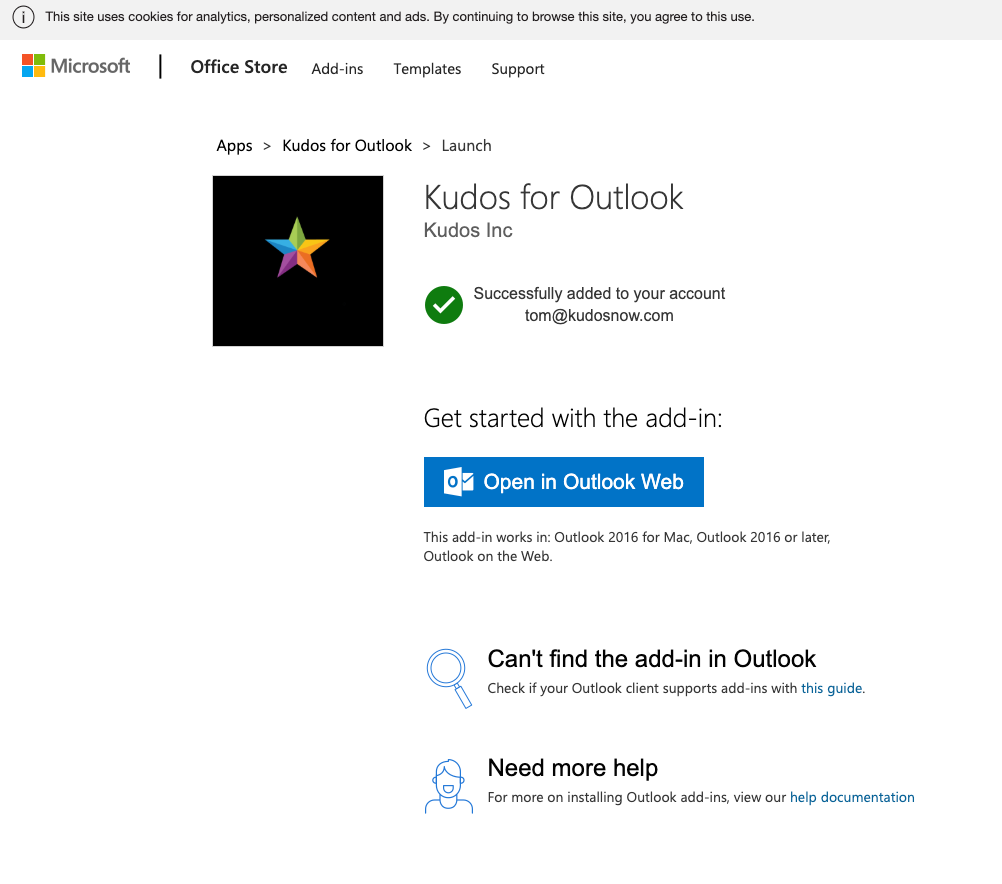 You will then be taken to the web interface for Outlook.
Using Kudos for Outlook
On the Outlook Web App
Once you've successfully installed Kudos for Outlook, you will see a Kudos star icon appear next to the reply button on all messages in your inbox. If the Kudos Star is not immediately obvious beside the reply button, look in the extension menu under the three dots beside your reply options. Click on the Kudos star to start a new Kudos message with the sender of the email specified as the recipient of your Kudos message:

Note that the first time you click this icon, the Kudos app will require you to sign in to your Kudos account.
If you wish to view your Kudos feed without sending a Kudos message, you can do so by clicking the star icon and closing the Kudos message dialogue box that appears. For convenient access to your Kudos account, you can click the pin in the top right-hand corner, and your Kudos feed will remain in the side panel.
On the Outlook Desktop App
Once you've successfully installed Kudos for Outlook, you can access the add-in while reading emails: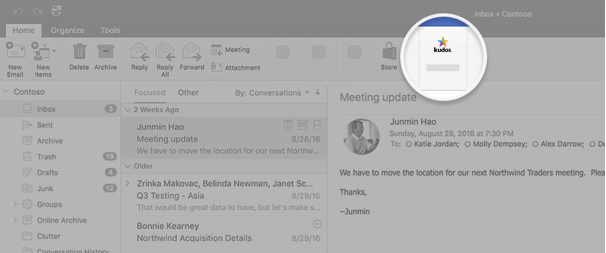 and while composing emails: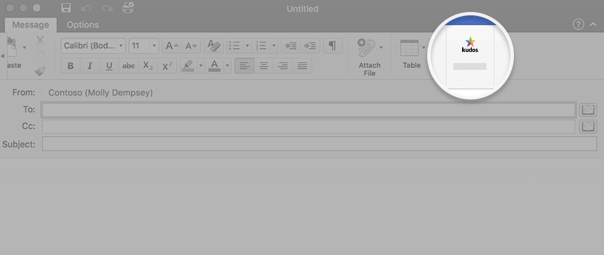 Once you click on the Kudos app icon in your Outlook application, a side panel will open asking you to log in to your Kudos account. Once you have done this, your Kudos feed will appear.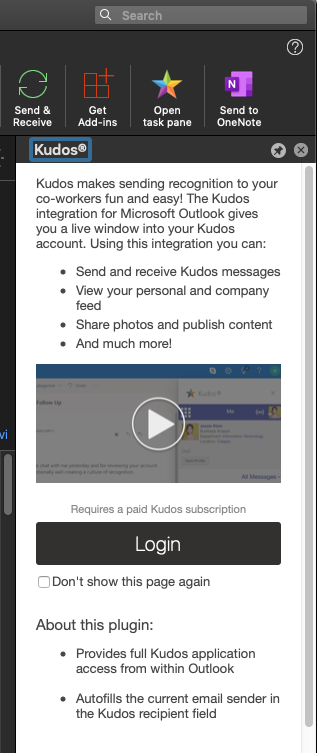 We hope this helps! If you have any questions, please reach out to us at support@kudos.com and one of our friendly team members will be happy to assist you!