With the Kudos® integration for MS Teams, you can send recognition directly within Microsoft Teams!
To use Kudos® in MS Teams, your organization must have an active Kudos® subscription and a Kudos® Admin must have installed the Kudos® App for your organization.
❗️Notifications will be generated each time there is a new recognition message posted as well as for each K+ given through MS Teams. Notifications for the Channel are controlled by each user, so be sure to update your preferences accordingly!
When sending a message in a channel in the Team section of MS Teams, type @kudos to call the bot. Click on the Kudos® app to open the Give Form. Select the level of recognition (Thank You, Good Job, Impressive, or Exceptional), enter the recipient(s), type a message, select qualities, and click Send!

You can also send recognition directly from your taskbar by clicking on the k★ icon. A pop-up window will appear with the Give Form. Next you can select the level of recognition, enter the recipient(s), add a message and qualities and click Send!
If you don't see the k★ icon, as shown below, you will first need to add the Kudos® app to your Teams application. Instructions for adding an app can be found here: Add an app to Microsoft Teams | Microsoft Support

When viewing the Kudos® Wall feed on MS Teams, you can K+ a message directly! Hover over a message to display the message options and click on the ellipses icon on the right-hand side. Once you have clicked on this you will see an option appear that says More Actions, which will lead you to the K + button.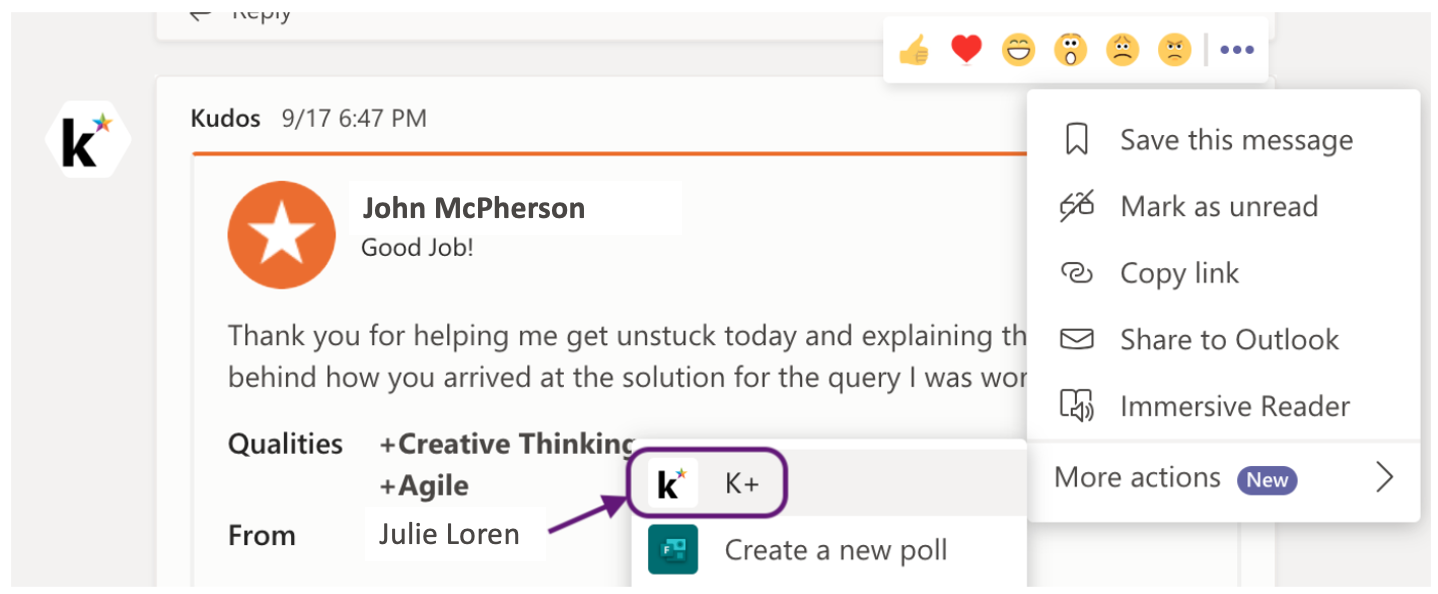 We hope this helps! If you have any questions, please reach out to us at Support@Kudos.com and one of our team members would be happy to help!