Spaces are used for sharing and storing resources, culture or wellness initiatives, and any other communications. Permissions can be set to allow specific users or groups to access or edit the content (called Pages) within a specific Space. Each Space that you create can hold multiple pages. You can categorize your content into Spaces, drag and drop to control the order of the information displayed, schedule publishing dates, control viewing, and editing permissions, and much more!
This tutorial video will guide you through creating a new Space and how to create a new Page in Spaces. We will cover Space permission options, as well as Page publishing and sharing options.
❗️Please note that our interface has changed since we recorded this tutorial. However, the steps detailed in this video are still the same!
Navigate to Spaces using the navigational menu on the homepage of your Kudos®️ platform. Click New Space in the top right-hand corner:

Add a name, choose an icon, and edit the permissions of the space. By default, all users can view all spaces and only Admins or Super Admins can edit Spaces or Pages. Edit permissions allow selected users, groups, departments, or locations to edit/view an unpublished page. View permissions allow users to view a published page (either in the Space, or on the wall, or a link in an email). Notifications only go to those that have View permissions.
❗️Ensure that you turn off the view and edit options for the default permissions to ensure that your new permissions are in effect. Please note that Admins and Super Admins will be able to see all Spaces and Pages regardless of the permission settings.
To change the permissions, click New Permission. In the pop-up window, specify which individual user or group will be able to view or edit the Pages in the Space, and click Add.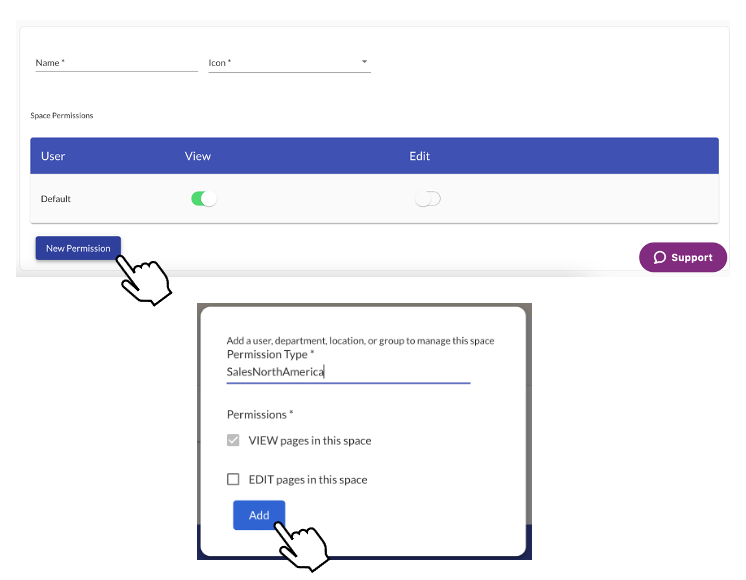 If you would like to allow more than one user or group to access a Space, you will need to add multiple permission layers.
When you have completed setting up the Space, click Save.
Navigate to the Space you'd like to add content to. Click New Page in the top right-hand corner:

Select Mixed Content Page if you'd like to publish general content such as blogs, newsletters, announcements or more. You can add videos, images, embedded content and more on a Mixed Content Page. Select Embedded Content Page if you'd like to embed a single piece of content, such as a PDF, survey or form. Once you've selected your page type, click Next: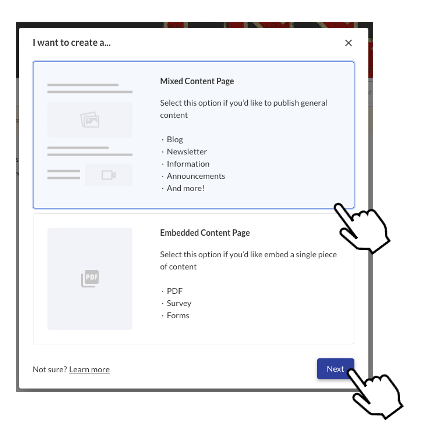 Once you've selected your page type, add a title to your Page and edit the content. Use the editor to add text, photos, embed videos, links, tables, or custom HTML. When adding elements to your page, keep in mind that the maximum sizes are 100MB for videos, 20MB for files, and 5MB for images. Feel free to edit the Page at your own pace, just remember to save your changes. To save your Page as an unpublished draft, click Save.

Review your page content and click Edit if you need to make any edits or updates. When you're ready, read the next section to learn how to publish your page.
When you are ready to make your Page live, click Edit when viewing the Page and then click Publish: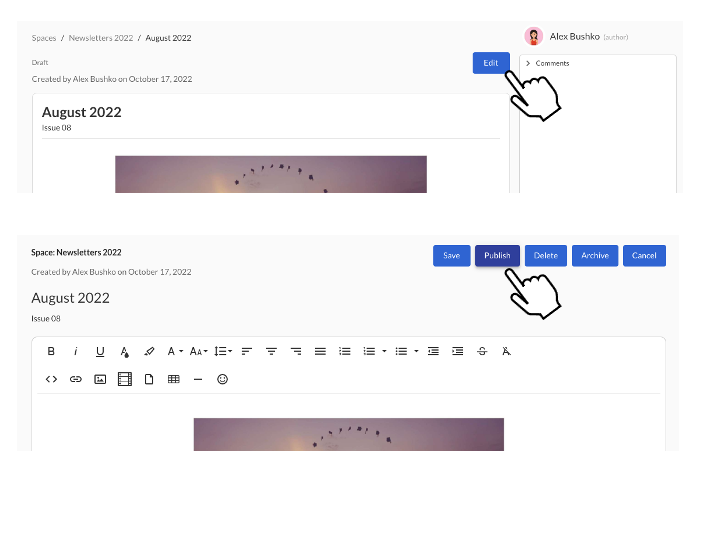 To publish the Page immediately select Publish Now. Select Post to Wall to share your Page on the Home feed wall. Select Notify Users if you'd like to send a customized message via email to alert them of the new Page. Click Publish when you have finished selecting the options. Your Page will now be live! Users will be able to view the page in Spaces, and if selected, they will see the page on the Home Wall and they will receive an email notification.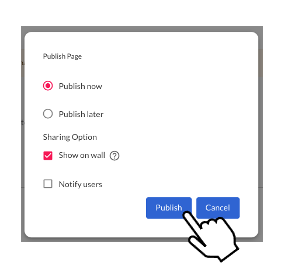 If you'd like to automatically publish your page at a later date or time, select Publish Later. Select the date and time you'd like the Page to publish. If you'd like to share your Page on the Home feed wall when it's published, select Post to Wall. You cannot notify users via email if you are using Publish Later. Click Publish when you have finished selecting the options, and your Page will be published according to your selections. At the selected time, users will be able to view the page in Spaces, and if selected, they will see the page on the Home Wall.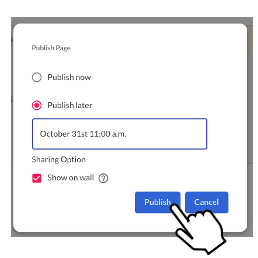 Arranging Spaces is a great way to highlight certain Spaces at different times, depending on seasonal events or organization initiatives.
To change the order of the tiles in Spaces and the Spaces Widget, hover over the space you want to move, then click and hold the lines that appear in the top left of the Space. While holding the Space, drag the square to the location you'd like it to be.
To edit or delete a Space, click the ellipsis icon in the right-hand corner of the Space tile, then click Edit:

On the left side of the page, you can edit the Space name, icon, and permissions. On the upper, right-hand corner, you can select Delete to permanently delete the Space.
❗️Please note that you cannot retrieve deleted Spaces.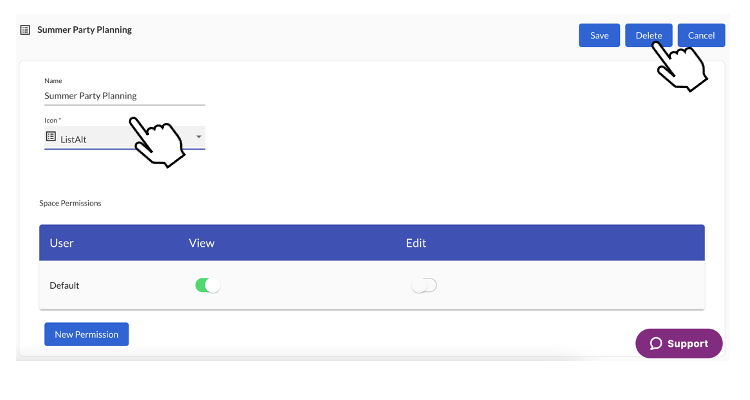 We hope this helps! If you have any questions, please email us at support@kudos.com and one of our friendly team members will be happy to assist you.