The Kudos Connector for ADP Workforce Now® allows your organization to use ADP Single Sign On (SSO) for Kudos and simplifies your User Provisioning by eliminating the need to do manual, duplicate entry of employee information.
Prerequisites:
Active Kudos subscription and a Kudos Account number

Admin or Super Admin privileges in Kudos

Access to the ADP Marketplace through your ADP Account
The Kudos Connector for ADP Workforce Now® must first be purchased through the ADP Marketplace. ADP charges an annual connection fee to purchase the Kudos Connector: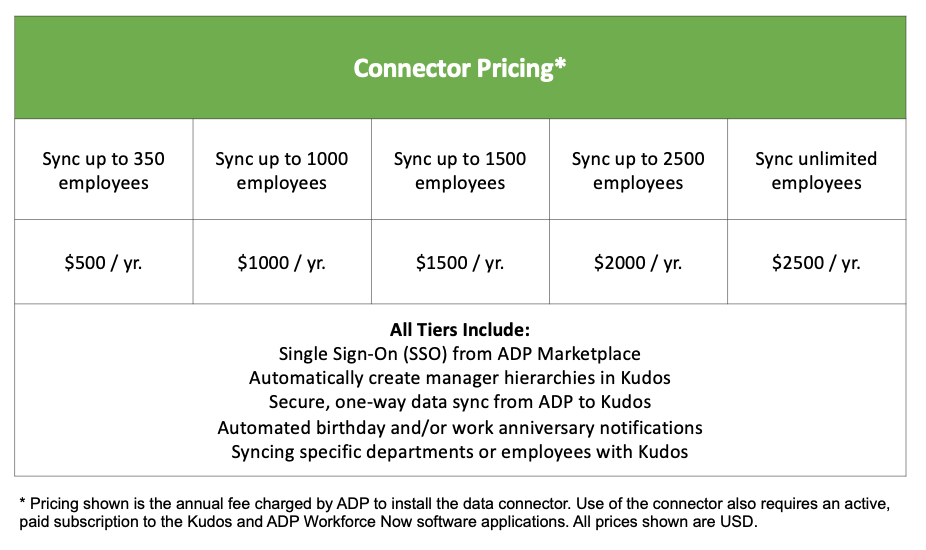 To purchase the Kudos Connector from the ADP Marketplace, follow this link or search for "Kudos Connector for ADP Workforce Now®" in the ADP Marketplace. The email address on the account used to purchase the Connector must match the email address of the Kudos Admin setting up the connector. On the Kudos Connector for ADP Workforce Now® listing, click Buy Now, then select the appropriate pricing tier for your organization and click Continue.

You will need to know your Kudos Account Number to be able to complete the purchase. To find your Kudos Account Number, navigate to the Gear Icon > Account > Overview and you will see your five-digit Account Number listed.

When prompted, enter your Kudos Account Number and click Check. Once you receive the Success notification, click Continue. If you receive a Warning or Error message, please ensure you have entered your Kudos Account Number exactly as shown in Kudos and try again. If you are still unable to validate your Kudos Account Number, please reach out to our team at support@kudos.com for assistance.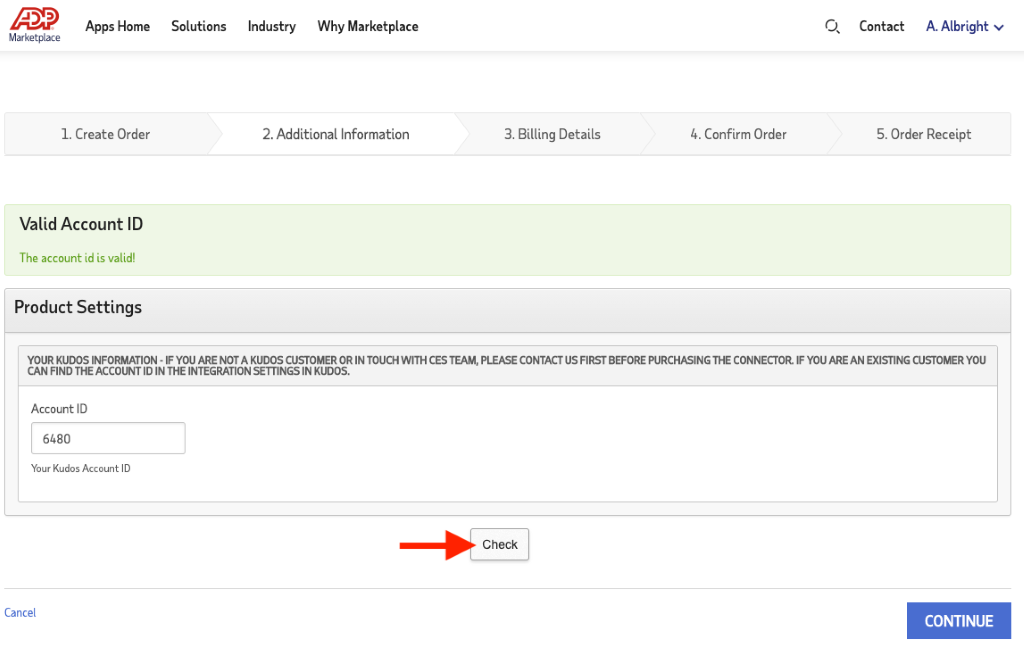 Next, you will be able to choose whether you'd like to pay for the Kudos Connector on your next ADP Invoice, or if you'd prefer to enter a new credit card. Click Continue, review your order and click Place Order. You will receive a copy of the receipt to your email address. Any billing inquiries related to purchasing the Kudos Connector for ADP Workforce Now should be directed to the billing team at ADP.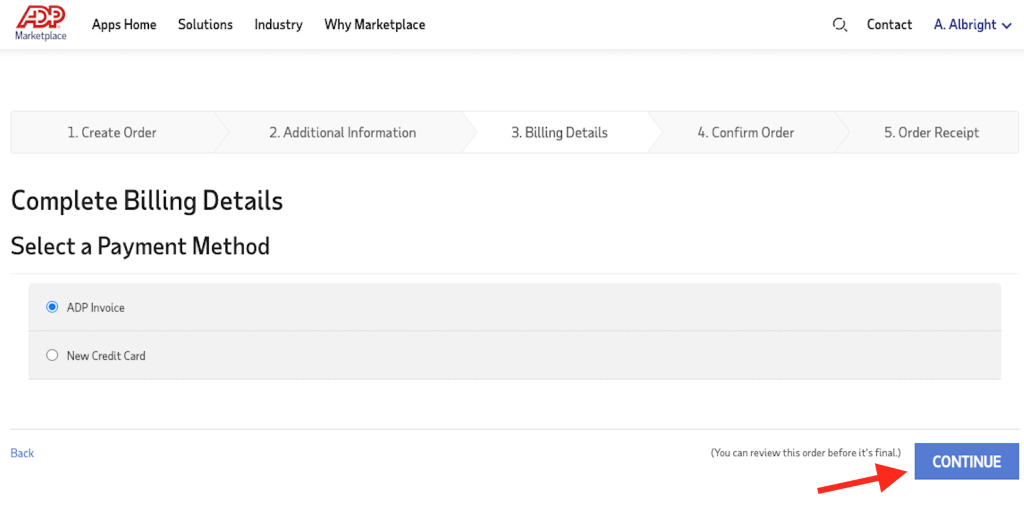 You will now be able to see the Kudos Connector in the MyApps section of your ADP Marketplace account and you are ready to move on to setting up your SSO and Sync your Kudos users through ADP!
Once you have successfully purchased the Kudos Connector from the ADP Marketplace, you can now set up Single Sign On (SSO) and start user provisioning with ADP. This will allow your users to use their pre-existing ADP credentials to access Kudos and allow Admins to simplify user provisioning.
To begin setting up ADP SSO, click on the Kudos Connector in your ADP MyApps.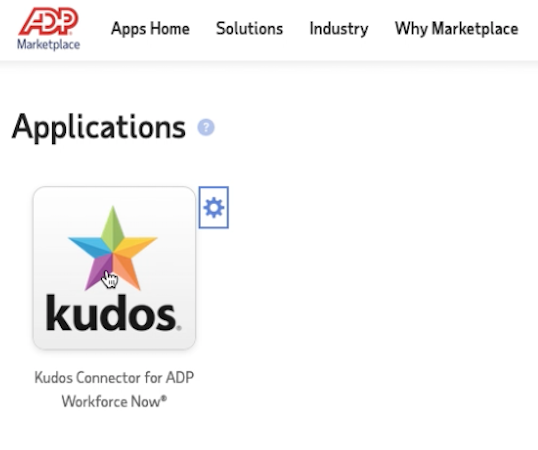 You will be prompted to consent twice on behalf of your organization. You must accept both consent requests in order to complete the integration.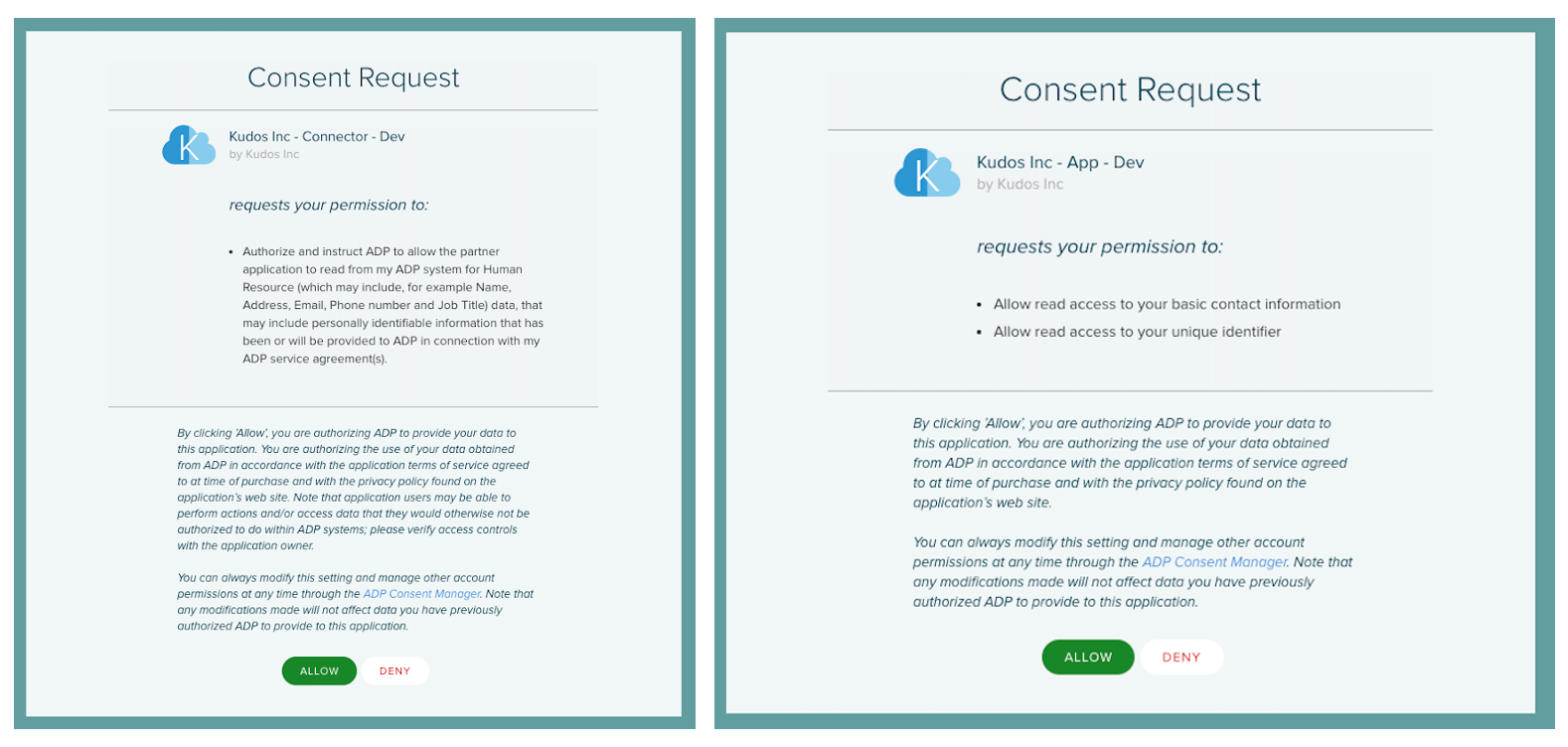 After accepting both you will be directed to the Integration page on your Kudos Account. If the connector was successfully purchased and installed, you should not have to sign in to your Kudos account at this step. If you are not redirected to your Kudos Integrations page, please visit this link to check the ADP Consent Manager to confirm your consent was recognized by ADP (shown below). If you do not see consents for the Kudos Connector, please contact your Account Manager or reach out to us at support@kudos.com.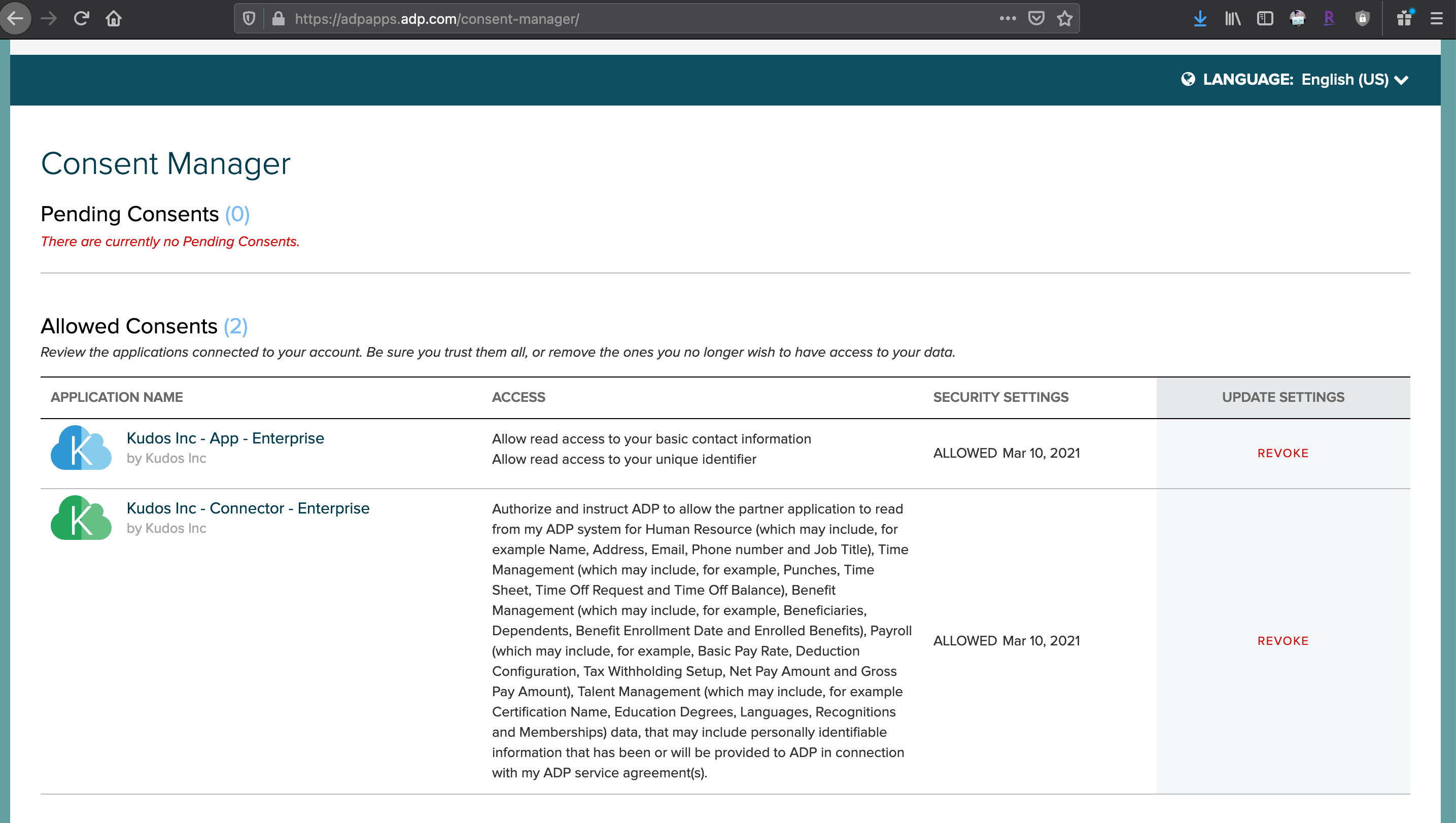 Once on your Kudos Integrations page, you should see a green checkmark in the upper corner of the ADP widget with a grey "Edit" button at the bottom: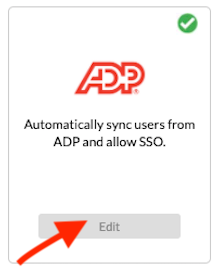 Click Edit. From the Edit screen, you can enable ADP Single Sign-On for your organization. Simply check the box for Connect to ADP SSO and click Save.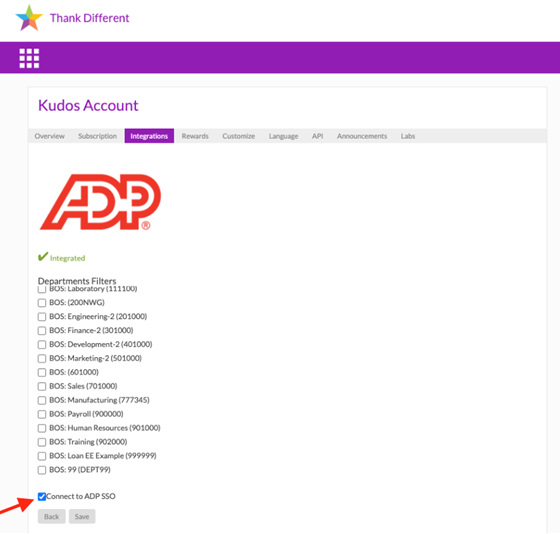 Once you click Save, your users will now be directed to your ADP sign-on page from your unique Kudos URL, where they will log in with their ADP credentials to access Kudos.
Once you have integrated the Kudos Connector with your ADP account, you can begin provisioning your users. You can select to sync all employees or select by department through ADP.
This integration is a one-way sync of employee information from ADP to Kudos. This maintains all employee information entered in ADP as the system of record. Any changes made to this information in ADP will automatically be imported to Kudos. New users will be added and terminated users will automatically be marked as archived in Kudos upon import. Employee information that will be pulled from ADP into Kudos includes:
Work Email

Please note that you must use the Work Email field, even if the email is a personal email, for the integration to work properly.

Employee Number

External ID

First and Last Name

Job Title

Office Phone Number

& Extension

Department

Location: City Name

Country

Supervisor

Start Date

Birthdate, without the year of birth

Employment Status

Photo
To add all users from a department, navigate into the Integrations tab of your Kudos Account, and click Edit on the ADP integration.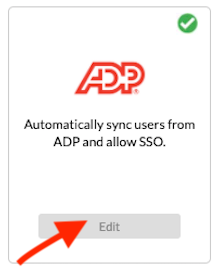 You can now Select All or chose specific departments to import into your Kudos account. All users in the selected department will be added to Kudos. Once you have selected the departments, click Save.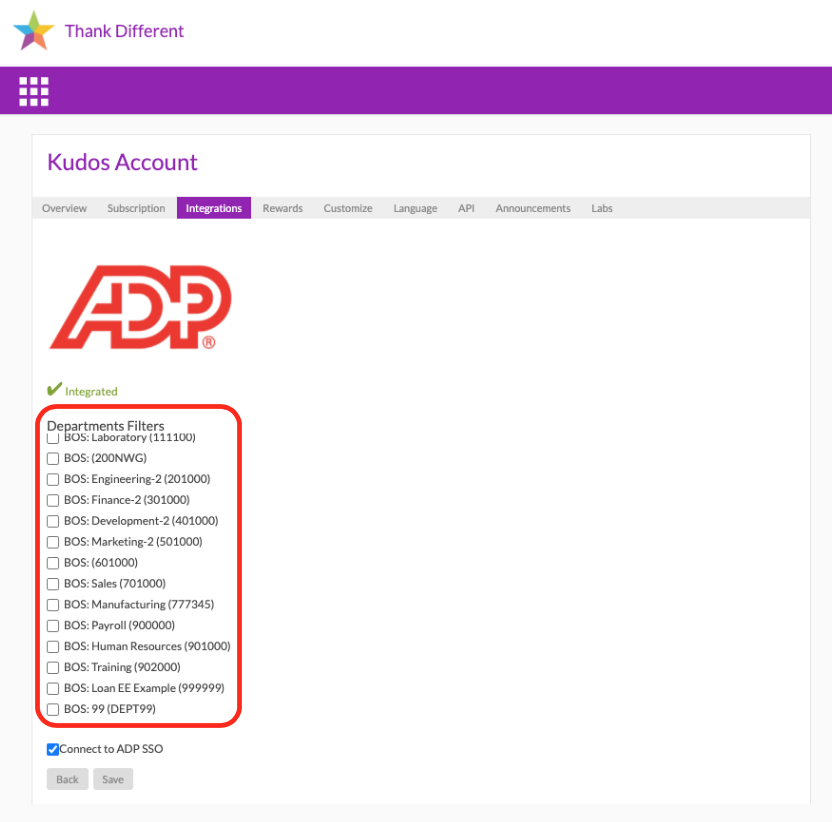 You will receive an email from Kudos with the following information once your sync is complete:
New Users Added
Supervisors Created
Users Updated
Users Archived
Users Re-Activated
New users will still need to be invited to join your Kudos system unless you have automatic invitations turned on in your Kudos settings. More information on inviting users can be found here: Inviting Users to Kudos.
We hope this helps! If you have any questions, please reach out to us at support@kudos.com and one of our friendly staff will be happy to assist you.