Integrating the Kudos® platform with Slack allows your users to easily send recognition and keep up with the Kudos® Wall without even having to leave their Slack window!
Integrating with Slack prior to launch will make the Kudos® channel visible to your team immediately. We recommend integrating Slack following the launch date.
Before you begin you will need to confirm you have the correct permission levels in both applications. In order to set up the Kudos® integration for Slack you will need to be a Super Admin (SA) in Kudos® as well as a Workspace Owner in slack.
Once you have confirmed you have the correct permission levels, in Kudos® navigate to your Admin Gear ⚙️ > Account Settings > Integrations > find the Slack integration tile and click Connect: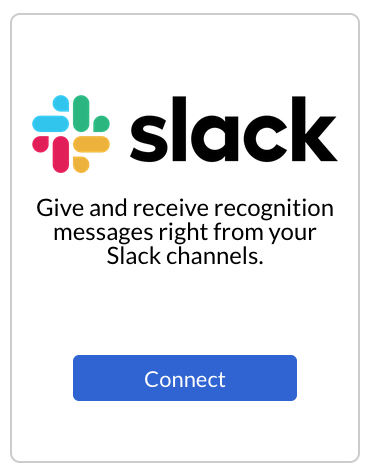 Before authorizing the Kudos® App, it's important to make sure you are signed in to the correct Slack team. Next, select the Channel that will be used to post your public organization's recognition messages; we recommend creating a special channel called "Kudos®" for this purpose in order to highlight and promote recognition in your team!
Once authorized, you will be redirected back to your Kudos® account with the integration enabled.
We hope this helps! If you have any questions, please reach out to us at support@kudos.com and a member of the Kudos® Support Team will be happy to assist you.