*Note: Integrating with slack prior to launch will make the Kudos channel visible to your team immediately. We recommend integrating slack following the launch date.
Setup:
Sign-in to Kudos using an admin account
Go to ⚙ > Account > Integrations > Slack
Click the "Connect to Slack" button
Before authorizing the Kudos App, please make sure you are signed in to the correct Slack team
Select the channel that will be used to post your public organization's recognition messages. We recommend creating a special channel called "Kudos" for that purpose in order to highlight and promote recognition in your team.
Once authorized, you will be redirected back to your Kudos account with the integration enabled.
How it works:
The integration has three main features:

1. Slash command: There are two ways to use the /kudos command within Slack. It allows any user in your team that is also provisioned in Kudos to send recognition to one or more peers. Here is how you can use it:

/kudos @recipient message +quality #hashtag

You can include more than one recipient. At least one recipient needs to be specified. If the sender is not provisioned in Kudos or their email does not match, the message will not be sent. Please make sure all your users are properly provisioned.
You can add more than one quality. If you don't specify any qualities, you will get a link to complete your message in Kudos.
The message type is inferred based on the keywords in your message. For example, including "thanks" or "TY" will result in a "Thank You" message type. Awards are currently not supported.
The second slash command option will prompt the user with a dialog box to send their kudos:
/kudos @recipient + enter button
After you input the

/kudos

command (

/kudos @recipient + enter button)

into your Slack text box the following box will appear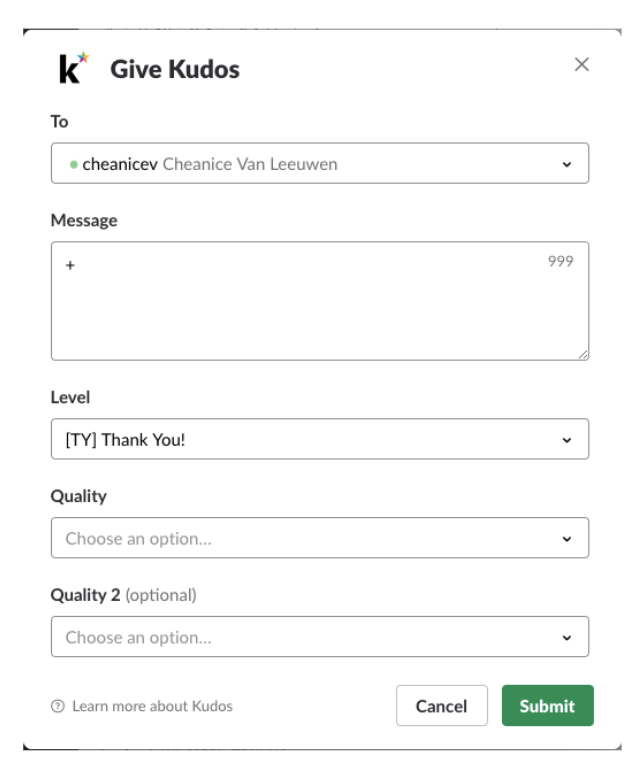 This allows the user to:
Write a meaningful recognition message in the

Message

text box.

Select the

Level of Recognition

they wish to send.

Select at least one

Quality

to go with the message.
2. Incoming Kudos: public recognition messages will be posted to the Slack channel selected when the integration is enabled. Users will be able to "K+" or endorse messages directly from Slack.

3. Kudos Bot: need help sending a Kudos from Slack? Simply type /kudos help to be presented with instructions for utilizing the slash command.
We hope this helps! If you have any questions, please "submit a request" at the top of this page and a member of the Kudos Support Team will be happy to assist you.