Kudos®TV is a visual stream that highlights the most recent Kudos
®
messages of appreciation from your Team Wall. Employee recognition is a daily effort, and Kudos®TV is a great way to remind and encourage team members to thank one another for the meaningful contributions they make each day.
To set up Kudos®TV, navigate to the Integrations settings in Kudos by going to the Gear Icon ⚙️ > Account > Integrations > Kudos®TV > Edit, then click Setup A Kudos®TV. This will load your Kudos®TV feed on your web browser and you will be auto-logged out as the device is authorized.
To view your Kudos®TV feed after it has been authorized, click Launch or you can click the Copy icon beside the device in the Kudos®TV settings to paste the URL in a different browser window. You will not have to log back in to view Kudos®TV if you're currently on the device that has been authorized.
You can unauthorize device access at any time by clicking Revoke on the device in the Integration tab.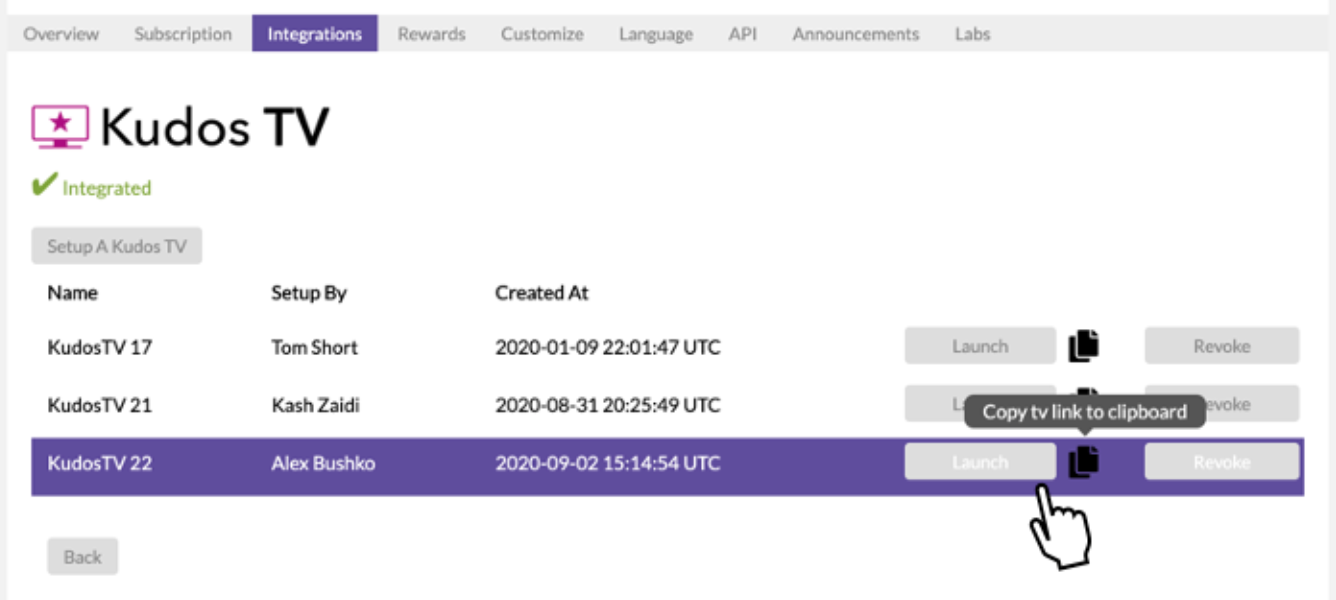 With a regular TV or projector, you will need a connector and a source. Ensure that you disable all screen savers, auto-sleep and auto-shutoff settings! With Smart TVs, as long as the built-in browser is compatible with Google Chrome, there is no need for a source computer. Just plug in and enjoy the show!
Compatible Systems
| | |
| --- | --- |
| Source | Mac, PC, iOS |
| Internet Browser | Google Chrome, Apple Safari, Mozilla Firefox, and Microsoft Edge |
| Connector | Check your TV and computer/mobile outlets. You can also link them wirelessly with Chromecast (more info: http://google.com/chromecast). |
We hope this helps! If you have any questions, please reach out to us at support@kudos.com and one of our Kudos® team members will be happy to assist you.