The Kudos® platform makes giving recognition and engaging employees as easy as possible, and our Single Sign-On integration is a big part of making connecting simple. This document will discuss how to configure the Kudos® platform to work with an existing SAML-based SSO server or any SAML-compliant service provider of your choice.
What You Need to Get Started:
Administrator privileges in the Kudos

® platform

A SAML-based Identity Provider that can issue x.509 certificates
Sign-On URL (Identity Provider Endpoint)
An administrator who is familiar with configuring an SSO server or service provider
Configuring the Kudos
® platform

to Use Your Existing Single Sign-On:
To begin, navigate to Admin ⚙️ > Account Settings > Integrations > SSO > Connect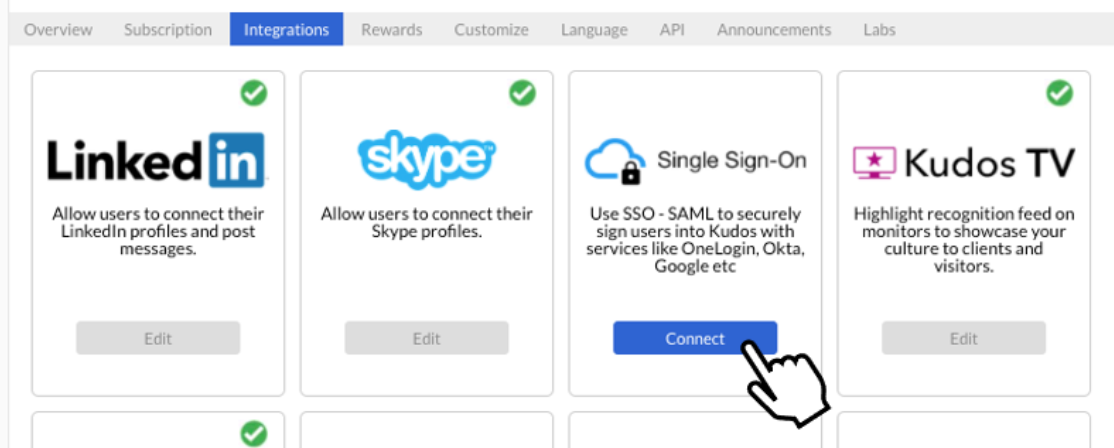 Enter your Sign-On URL (Identity Provider Endpoint) and enter your x.509 certificate. Certificate x.509 must be a 'BEGIN CERTIFICATE' and an 'END CERTIFICATE'.
Choose a logout URL. This is where your users will be directed after they log out. You can use your custom Kudos

® platform

URL or any other URL.
Enter your Kudos

® platform

URL subdomain only, and click Save.
If you receive the error "HTTP Error 400: The size of the request headers is too long" this site provides some troubleshooting: Fails Due to Token Size.
To see an example of integrating with ADFS, please click here.
For instructions on setting up SSO through Azure, please reference this article: Azure Active Directory SSO(SAML) with Kudos®
If you require an SSO provider, are experiencing difficulty, or feel that your SAML service provider or server is not supported, please reach out to us at support@kudos.com and one of our friendly team members will be happy to assist you.