Overview
With the Kudos Workday integration, employees can be imported from Workday HCM, and their HR information will be synced into Kudos. This eliminates the need to perform manual, duplicate entry of employee information in both systems.
Requirements
API Access to the Workday Human Resources Webservice: please contact your Workday administrator to create a system integration user that is capable of reading from the

Get_Workers

API endpoint under the Human Resources Webservice.

The Integration is developed and tested against Workday Web Services (WWS) version 31.

An active Administrator account in Kudos which will be used to setup the integration.
Setup
After setting up and acquiring the Workday integration user credentials which include a username, password, and API URL, visit your Kudos home screen, select 'Account' then 'Integrations.'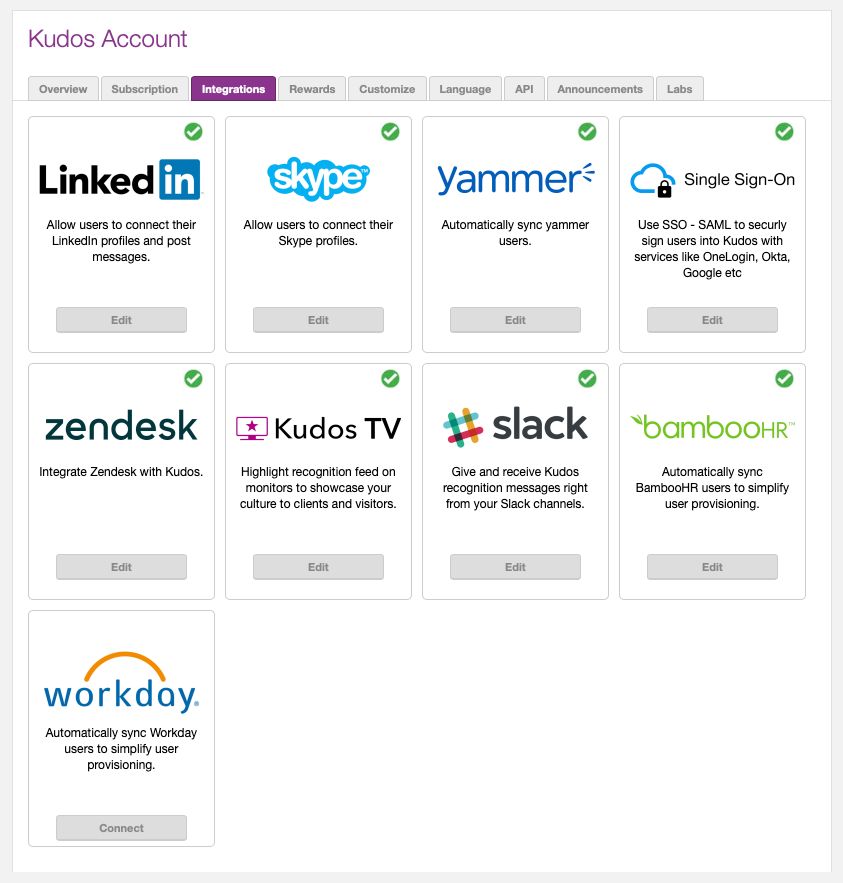 Click 'Connect' in the Workday tile
Enter the API URL which looks like this: https://wd3-impl-services1.workday.com/ccx/service/tennant_id/Human_Resources/v31.0?wsdl
Where tennant_id is specific to your organization.
Enter Username and Password. Make sure these credentials are correct.
Select the administrator account that will receive the sync reports.
Click 'Connect to Workday' to activate the integration. This will also validate the credentials to ensure future sync processes are successful. If the credentials change at any point after setting up the integration, please make sure to update them in Kudos.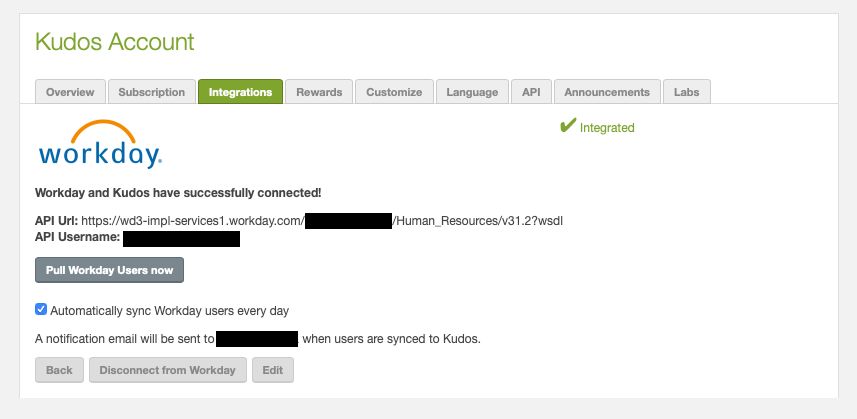 After activating the integration, you will have the option to enable daily automatic sync or pull users manually.
Once the sync has started, the process may take a while depending on the number of users being synced. At the end of the process, a notification will be sent by email to the user about the success of the process and/or any errors that may have happened during the data sync.
Attribute Mappings
The following fields / Attributes are synced one-way from Workday to Kudos. Values in Workday will always override what has been set in Kudos: