As a manager, you can use the Kudos® Dashboards as a tool to support your team's engagement. You can see your own recognition behaviours, your team's recognition behaviours, as well as which skills and values are practiced most within your team.
These dashboards provide comparative data on your team members and enable you to see how your employees contribute to your organization's culture through relationships and performance metrics. The dashboards also provide insight into how your employees and teams engage with other individuals and teams in your organization.
Finally, the dashboards give you insight into your recognition behaviors within your team, allowing you to ensure you are recognizing everyone adequately and equitably.
You can access your Manager Dashboards by clicking Dashboards on the left-hand menu in your Kudos® account.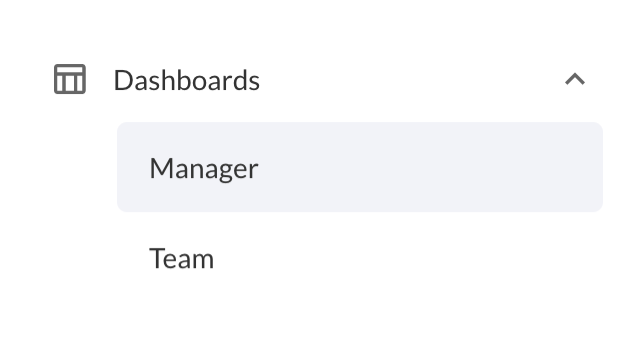 Click each tab in the article below to learn more about each dashboard!
❗️If you are missing team members, please contact your Kudos® Administrator. Your dashboards update overnight, providing you with updated recognition data daily. However, if your direct report list changes, please note that updating user information can take up to 72 hours to allow all systems to sync and re-sync relevant information across the platform.
Related Articles:
The Manager Dashboard is a tool available to all people leaders within your organization.
Here you can see your own reach rate, the values, and qualities you recognize most, and a shortcut to easily recognize your team members. You can scroll over the values and qualities graph to see the details of each quality or value you've recognized over the past 30 days:

Next, you'll see a widget detailing the recognition you've sent your direct reports. Here, you can compare the recognition they've sent each team member within the last 30, 60, and 90 days. As a best practice, we recommend that managers recognize their team members at least twice (2) during each 30-day period. For your convenience, you can click Give Recognition to recognize each individual right from within your dashboard:
If your team member manages a team of their own, you can click Team Details to open the same dashboard for that leader. You can use this dashboard to support the leaders who report to you in using recognition to engage their direct reports: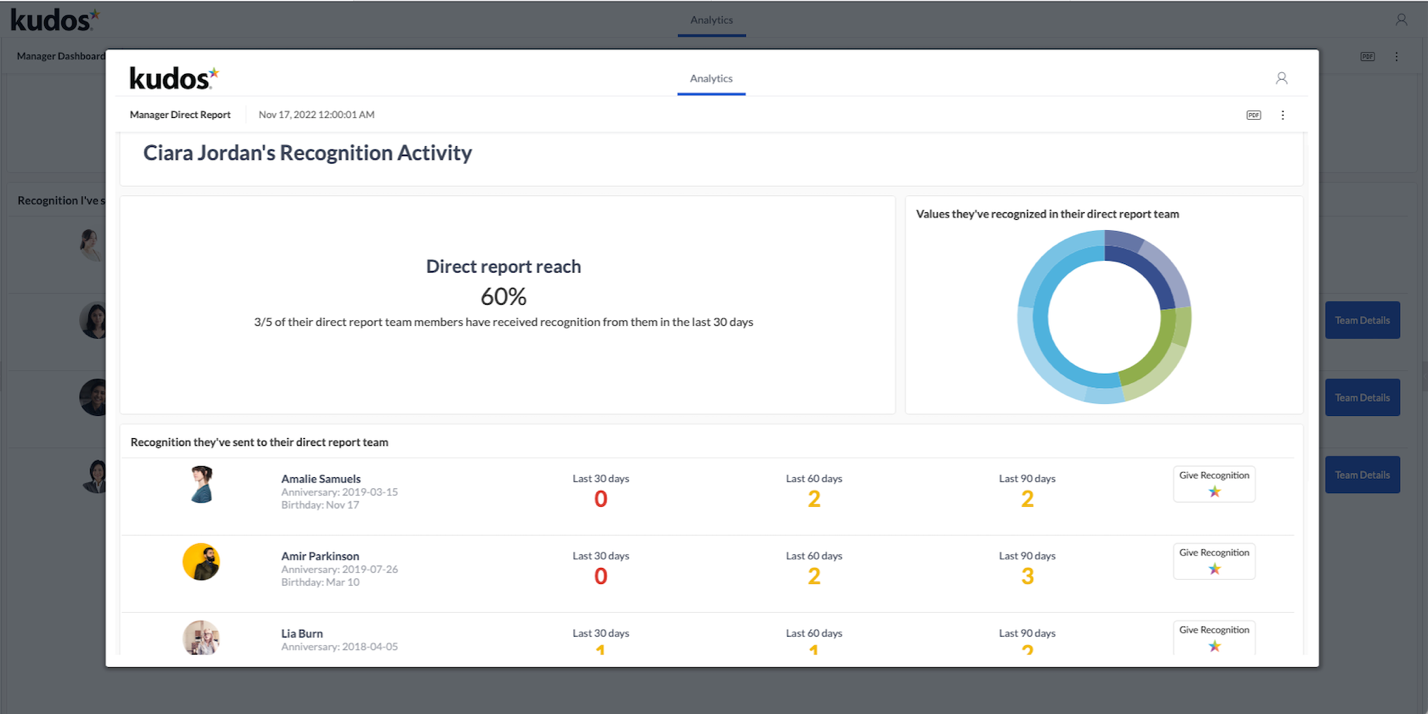 The Team Dashboard gives you insight into recognition behaviour across your team, including the direct reports of your immediate reports.
If you manage multiple leaders and have a large downline reporting structure, you can use the Select Manager filter, shown below. This filter will apply to the entire dashboard.
By default, this dashboard will show you all the members across your entire team – direct and indirect reports. This dashboard provides an overview of your team's activation, participation, and reach. You'll see the month-over-month trends for your team in recognition sent and received, the values and qualities they are recognizing and being recognized for, and the top 10 senders and receivers for the selected team.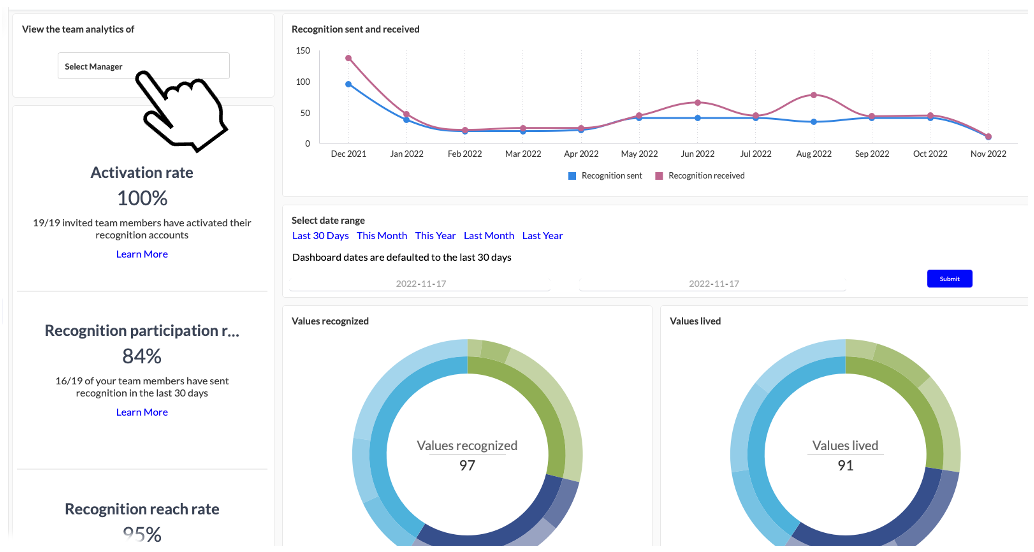 Reminder: A Glossary of Dashboard Terms is Available Here
If you'd like to dive into the data for Activation Participation, or Reach click Learn More to open the corresponding dashboard: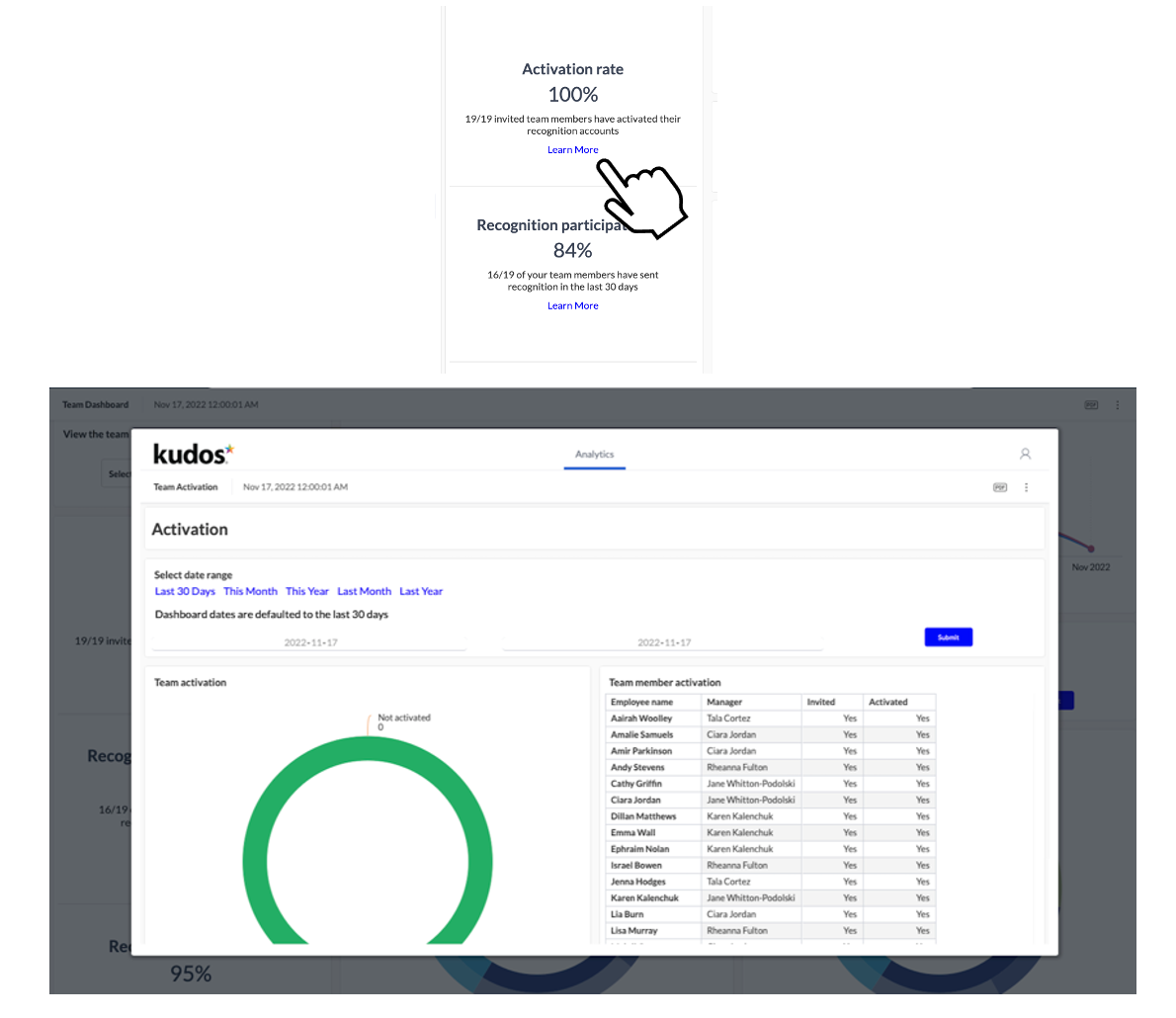 We hope this helps! If you have any questions, please reach out to us at support@kudos.com and one of our friendly team members will be happy to assist you.