You can easily download individual widgets from your Dashboards to include in presentations or share with other members of your team. If you'd like to export a full PDF copy of your Dashboard, check out our article: Exporting Dashboard Information
Widgets can be downloaded in one of the following formats, depending on the type of widget:
CSV

: Download the data described by the widget in a CSV file. If you have applied any filters, the filtered data is the data included in the file.

Excel

: Download the data described by the widget in an Excel file. When you export a pivot table to Excel, the data that is exported is the data that is displayed in your widget. This means that any active filters, the layout structure, and masks that you have applied in

your Dashboard

to your data are exported as well. Exporting to Excel maintains your pivot's layout and structure, and values such as sub-totals, which are not maintained when you export a pivot table to CSV.

Image

: You can download a widget as an image in PNG format. The image size will reflect the size of the widget on the screen when you download it. To create a larger image, enlarge the widget space in the dashboard, or open the widget in edit view, to get a bigger picture

to download.

PDF

: Download the widget as a PDF. For Table widgets, you can customize how your table is displayed in your PDF including the table's orientation and page size. In the PDF Report Settings, the first 14 pages of your Pivot table are displayed in the preview window, however, when you export your Pivot table to PDF, the entire table is included, up to 10,000 rows on multiple pages.
To download a widget, click on the widget's menu, select Download, and then select the relevant file type. The Widget will then be downloaded to your device.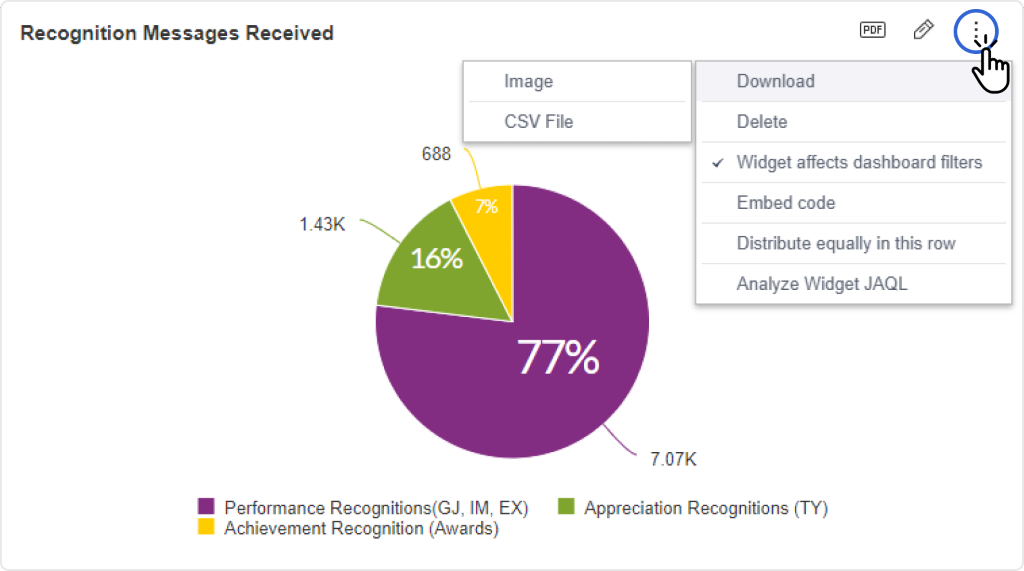 We hope this helps! If you need more assistance, please reach out to us at support@kudos.com and one of our team members would be happy to help out.