Adding and Inviting Users
Whether you're setting up the Kudos® platform for the first time, or adding new hires to an existing Kudos® account, adding users is one of the most important parts of being a Kudos® Admin! Users can be added manually or by bulk upload through a CSV or XLSX file. It's important to remember that users will not be able to access the Kudos® platform until they are invited by an Admin.
💡 For more information on User Privileges and Limited Admin abilities, check out our User Administration guide!
Adding users manually is a great option if you only need to add a few new users to your Kudos® system. Otherwise, we recommend using Bulk Changes to add multiple users at once.
To add new users, go to Admin Gear ⚙️ > User Admin > Users. Click on Add a User.

You will then be presented with a window to manually add information for a single user. Note that the starred (*) fields are required. Once you've filled out the user's information, click Create User. Your user is created immediately, and you will need to invite the user to your Kudos® system before they can access their user account, unless you have auto-invite turned on. More information on auto-invite can be found in the tab below.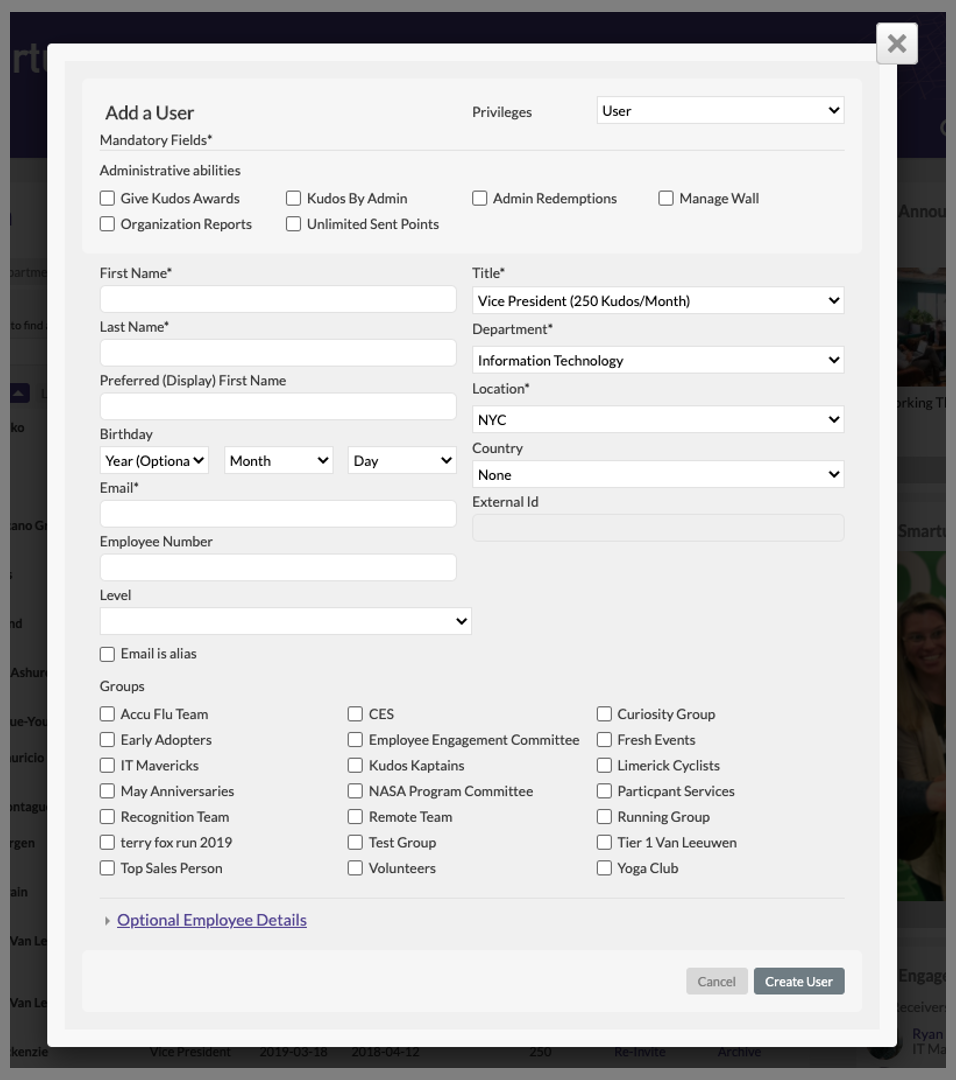 If you are adding multiple users at once, we've provided a CSV template to make the process faster for you. To download a template and get started, click on Bulk Changes from within User Admin.

The Bulk User Import instructions can be found under Step 1 for your reference. These instructions will help you to fill out the Import CSV or XLSX file.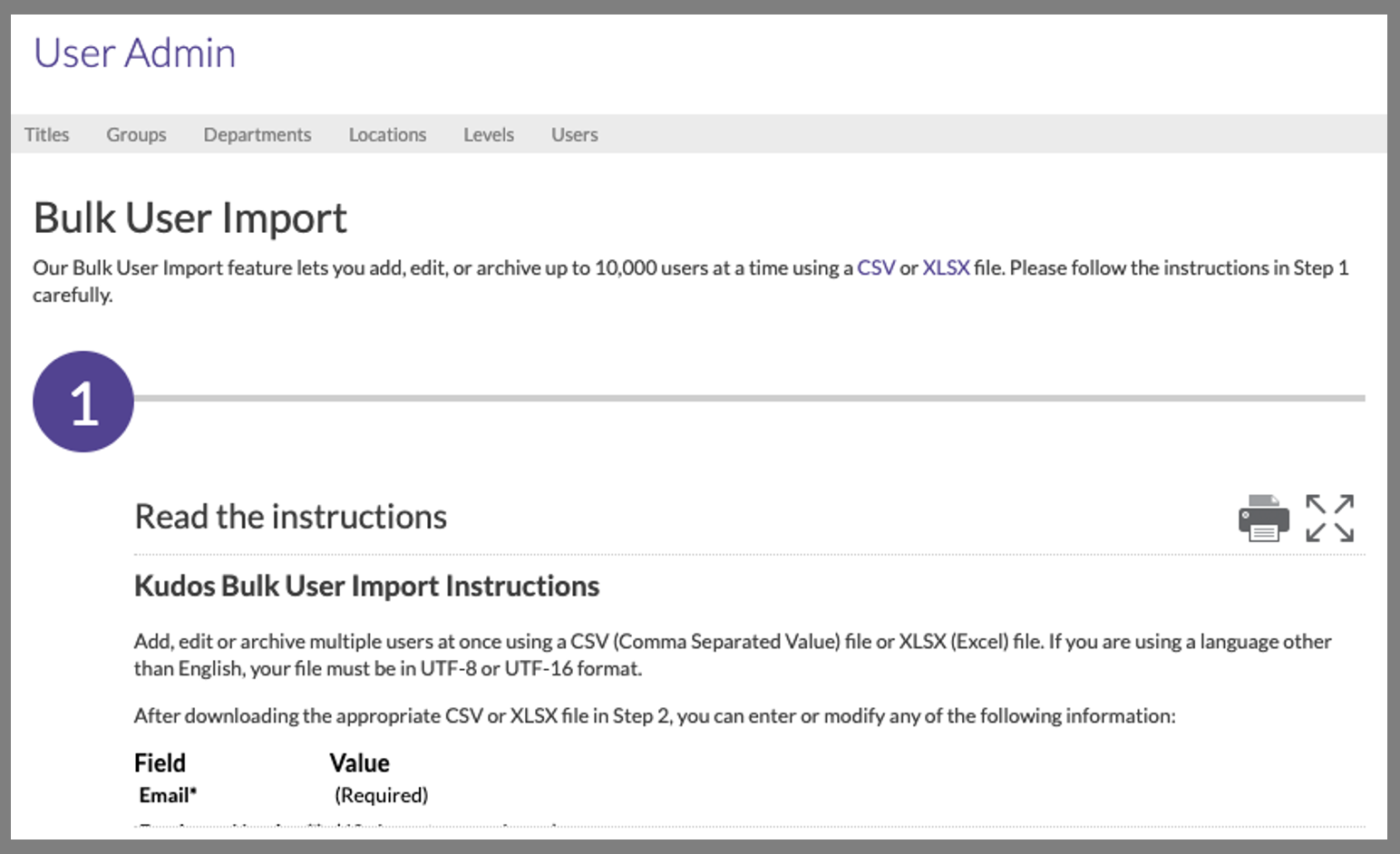 When you are first setting up your account, click Download under Step 2 to download a blank CSV template or XLSX template.
If you already have users on the system and want to edit a CSV or XLSX of existing user data, check out this article for information on editing User Information.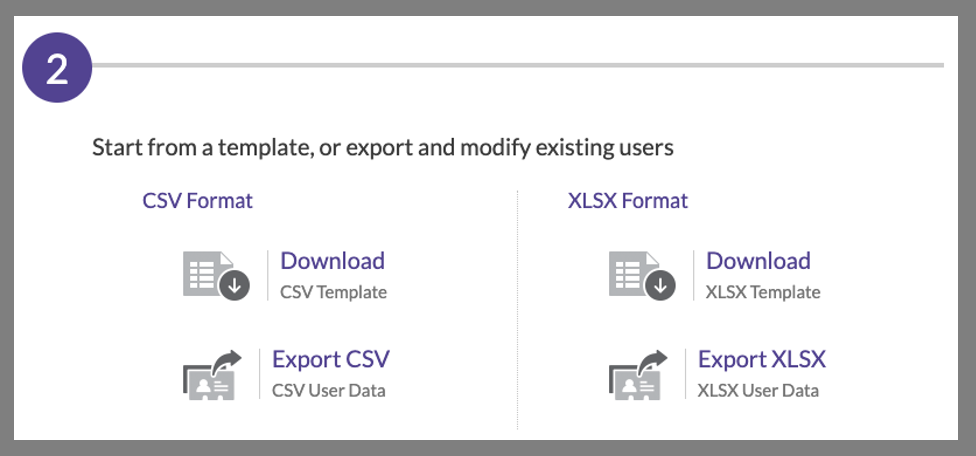 Populate your data in the import file that you have downloaded! Be sure to follow the instructions and guidelines provided in Step 1.
❗️It is important that the columns in the template are neither removed or renamed to avoid errors when the file is processed. You must include an email address for each user. Ensure that the date formats match for both Start Date and Birthday.
When you are ready to upload your users, return to User Admin > Bulk Changes > Step 3 to import. You can match on email, employee number, or external ID. If you are setting up your Kudos® user base for the first time, we recommend selecting "email".
Select your file, and click Import. Once the upload is complete you will receive an email confirmation. Any errors will be detailed in the email so you can make the necessary changes and upload the file again. Once you have added all your new users, be sure to invite them to your platform, unless you have auto-invite turned on. More information on auto-invite can be found in the tab below.
❗️During the upload process, all employee data will be compared to current and archived users; this means that if the system finds a match to an archived user, the information will be updated the information and a new user will not be created.

❗️Adding users to the system either manually or via bulk upload will not automatically give the users access to the Kudos® platform and invite them to log in. This will give you the opportunity to set everything up and double-check your user data before launching the Kudos® platform to your organization.
Once your users are added successfully and you are ready to launch the Kudos® platform, be sure to send email invites so your employees can log in and set up their individual accounts!
When you're ready to invite users, return to Admin Gear > User Admin and click on Send User Invites.

A popup will appear, giving you the option to either Send Outstanding Invites Now, which will send an invitation to all users in your organization who have not yet been invited, or Re-Invite Users Now, which will send an invitation to everyone who has been invited already, but has not yet accepted their invitation.
❗️Once you have invited a user, you cannot withdraw the invitation.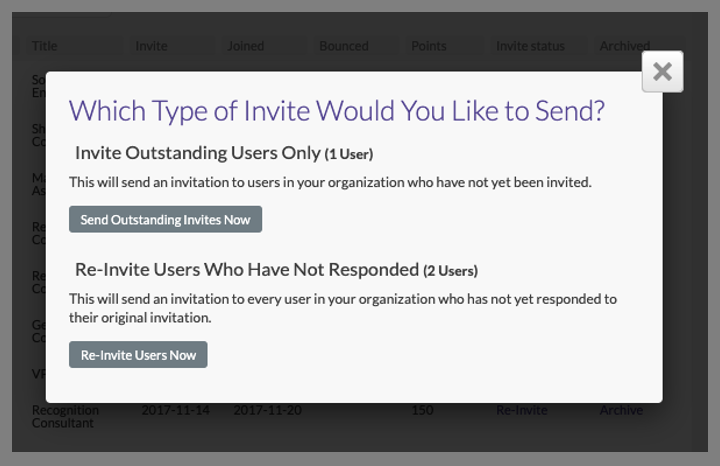 If you wish to set the Auto Invite feature click Admin ⚙️ > Account Settings > Customize > User Invitations. By selecting Auto Invite, each time a new user is added to the Kudos® platform they will automatically be sent a system-generated invitation to begin using the platform.
❗️ Auto Invites will not be sent to any previously created users, and will only apply to users added after Auto Invite has been turned on. Be sure to invite all previously added users before turning on Auto Invites using the steps above!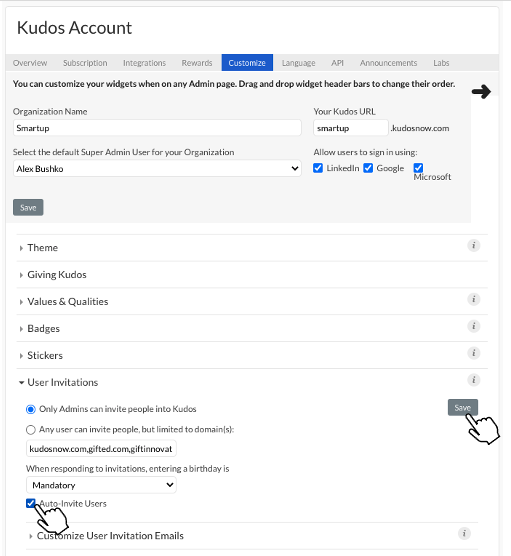 We hope this helps! If you have any questions, please reach out to us at support@kudos.com and one of our friendly team members will be happy to assist you.