To edit one user at a time, go to:
⚙️ 
> User Admin > Users
Now, click a user's name to edit any information, including their email address.
To override their profile picture, click on their profile picture and select another image file from your computer. Wait a few seconds for it to change/finish loading.
To override Kudos allocated points, select the new amount from the drop-down menu.
You can give 'Users' administrative abilities on an individual basis at the top of the edit window. Check the box next to each ability/privilege that you would like the user to have.
If you have users who prefer to go by a nickname instead of their legal name (eg. "Nikki" instead of "Nicole"), you can specify a preferred name in the optional "Preferred Name" field. This value will appear in place of the first name, and is also searchable within Kudos.
Most of the information you edit here will appear in the grey box in their personal profiles, and the user does not have the power to edit it.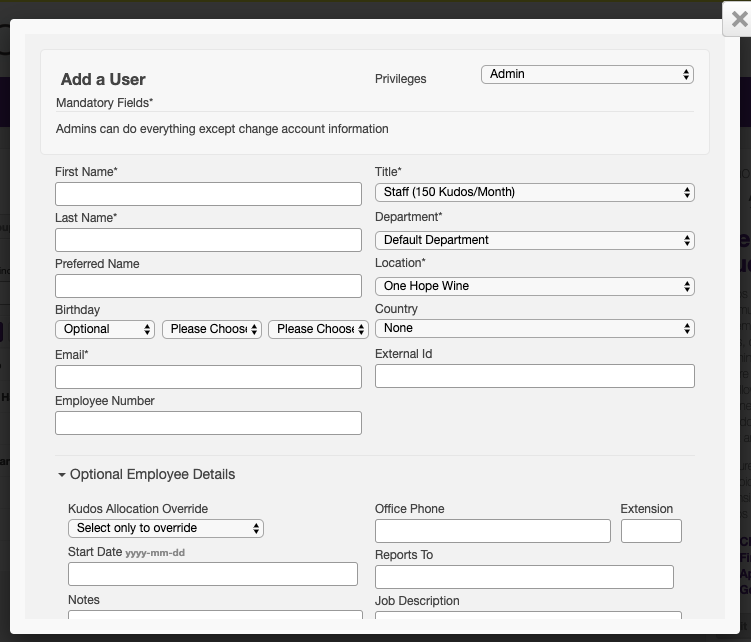 To edit multiple users at a time, go to:
⚙️ 
> User Admin > Users
Then click on the Bulk Changes button. On the next page, in Step 1 (Download the appropriate CSV File Template), be sure to click on the EXISTING USER DATA button.
You can then open the downloaded CSV file and change any information you'd like.
Please Note:
Keep an eye on the spelling of job titles, departments and locations so that the system does not create duplicates.
If you wish to change multiple user's email addresses, please ensure you key off of Employee Number or External ID as the unique identifier upon upload. If you do not have these, or have them in the system, please use the manual method explained above, otherwise duplicate accounts can be created.