Editing user information is an important part of being a Kudos® platform Administrator! Users can be edited individually, or by bulk upload through a CSV or XLSX file.
Some examples of user information that must be edited by an Administrator include the user's name, email address, reward eligibility, job title, department, location, office phone number, supervisor, employee number and start date.
Navigate to the Admin ⚙️
> User Admin > Users. Search for a user, and click their name to edit any user information. Be sure to click Save when you have completed editing each user.
To override their profile picture, click on their profile picture and select another image file from your computer. Wait a few seconds for it to change/finish loading.
To set a Points Allocation Override, select the new amount from the drop-down menu. It is important to remember that the amount of Points entered into the Override will remain in place until it is removed. More details about settings points for users can be found here.
You can give Users limited administrative privileges on an individual basis at the top of the edit window. Check the box next to each privilege that you would like the user to have. You can find more details on limited admin privileges here.
If you have users who prefer to go by a nickname instead of their legal name (eg. "Liz" instead of "Elizabeth"), you can specify a preferred name in the optional Preferred Name field. This value will appear in place of the first name, and is also searchable within your Kudos® platform.
Most of the information you edit here will appear on their personal profiles, and the user does not have the power to edit it.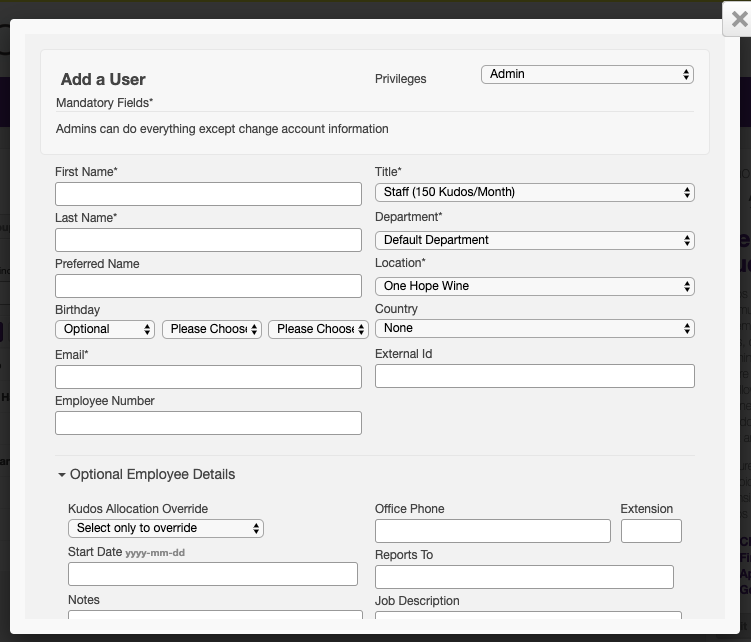 You can enable or disable rewards for individual users through User Admin. For more details on reward eligibility, please reference this article.
To edit multiple users at once, navigate to Admin ⚙️
> User Admin > Users and click Bulk Changes.

On the next page, in Step 2 be sure to click Export: Existing User Data, not Download Template, to export a copy of your current user data. You can then open the downloaded CSV or XLSX file and change any information you'd like. The downloaded file will include any users, active and archived, that have ever been on your system. You can use filters on your spreadsheet program to help manage the data.
When updating user information ensure that the spelling of job titles, departments, and locations exactly matches what is in your Kudos® system so that the system does not create duplicates.
Limited admin privileges can be managed by entering Y or N in the appropriate column.
Rewards eligibility can be turned on or off by entering Y or N in the appropriate column.
Once you have updated your user file, save it in .XLSX format. Return to the Bulk Changes screen in your Kudos® account and scroll to Step 3.
Select the cell you'd like to match on - we recommend using "email"**. Upload your file. You will receive an email notification once the file has been processed. This email will note any changes made and will include a list of errors if there are any.
**Note: If you wish to change multiple user's email addresses, please ensure you key off of Employee Number or External ID as the unique identifier upon upload. If you do not have these, or they are not populated in the system, please use the manual method explained above or reach out to our Support Team for assistance, otherwise, duplicate accounts may be created.
When a user has received a new email address, there is no need to create a new user. Both Admins and Super Admins can change a user's email address.
To change a user's email address navigate to Admin ⚙️
> User Admin > Users. Search for the user you need to update, then click on their name to bring up the edit window. Edit their email address and click the Update button. You will then be taken back to the list of all users. Find the person who's email address you just updated and click Re-Invite. This will send an invitation email to the new address.
❗️ Resending the invite is necessary to ensure the user can set up their Kudos® account with the new email address.
Please contact us if several email addresses need to be changed.
We hope this helps! If you have any questions, please reach out to us at support@kudos.com and one of our friendly team members will be happy to assist you.