Have you sent a recognition message with a typo? No worries! You can edit a message on the web up to 72 hours after it has been sent, or you can change the post visibility by removing it from the wall.
This article will guide you through what to do if you have sent a message to the wrong recipient and how to remove a post from the wall as a User.
❗️You cannot edit the recipients of a message after it has been sent. Any points sent with a message cannot be changed. Editing a message will only update the wall post, but it does not change the email or points that were sent out to the recipients. In this case, it is best to hide the message from the wall.
Please note that you cannot edit the content of a message on the Kudos® mobile app; this functionality is only available on the web version of Kudos®.
You can remove a post from the wall by Reporting the Message to Admin. You can report a message on both the Kudos® mobile app and the web platform.
Anyone can hide a message or comment by finding the '...' icon on the bottom right of the message. Clicking on this '...' icon will give you the option to click Report to Admin.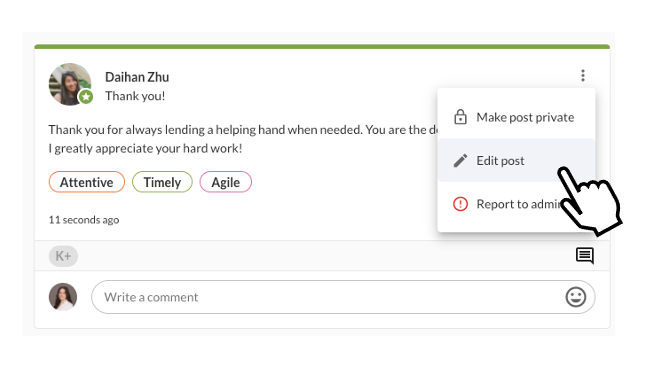 This will ensure the message will not display on the wall. No notification will be sent to your Admin Team if you were the sender or the receiver of the message you are removing.
If you want to hide a post that you have sent or received, you can click on the '...' then click Make Post Private. Doing so will remove the post from the main wall, however, it will still display on the personal Me Page of the sender and receiver. Check out this article for more information on Private and Public Messages.
We hope this helps! If you have any questions, please reach out to us at Support@Kudos.com and one of our friendly team members will be happy to assist you.