If a team member has recently completed an important project, gained a new certification, or done something truly exceptional, giving them a Kudos Award is a great way to recognize their accomplishment.
You must have either Super Admin, Admin, or have specifically assigned User privileges by your Kudos Admin team to send Kudos Awards.
Recognition for the Big Achievements
Sending an Award starts with clicking on the Give Bar. When the message editor appears, click the Down Arrow button on the right-hand side of the Give Bar, and when the full messaging menu appears, click Award.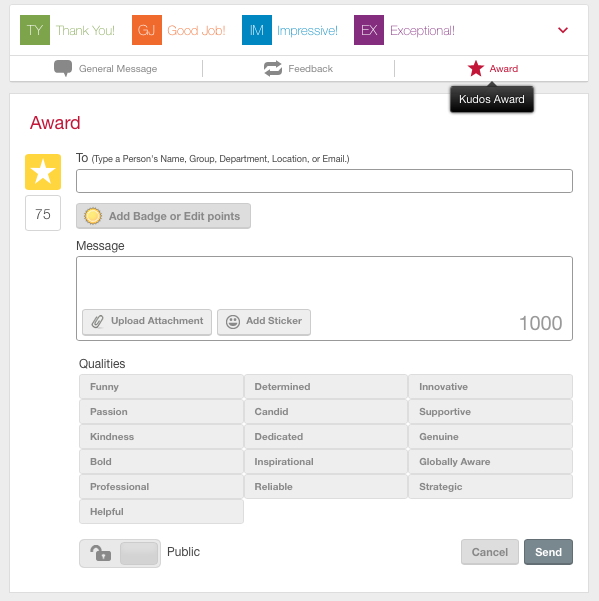 When you send an Award, you can edit the amount of points being sent and add a Badge. To change both the number of points you give in an Award and select a Badge, click Add Badge or Edit points.
After you click Add Badge or Edit points, you can enter the number of points you want to send by either typing in a number, or by clicking the up and down arrow. Awards can also be given with 0 points. Click the Badge you want to attach or click No Badge. If you chose to send the award with a Badge, the recipient(s) can click on the Badge to view it as a Certificate. When you're finished, click Save Changes.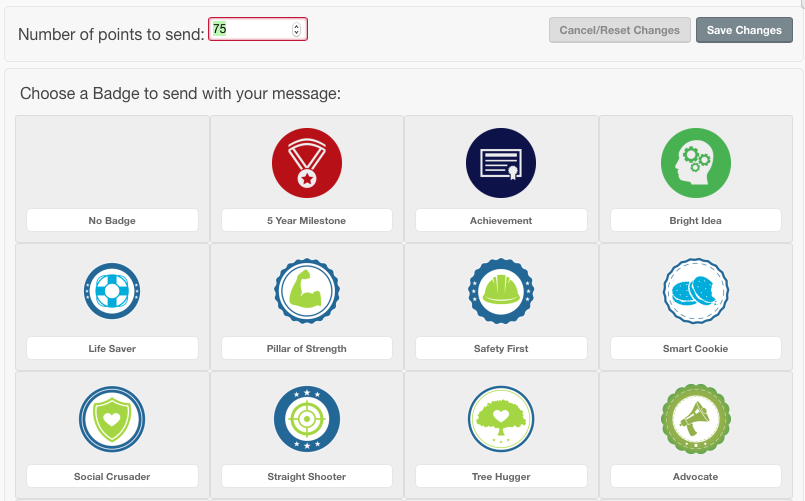 Now you can enter the recipient(s) in the "To" field and add a message. You can send Awards to a User, a Location, or a Department. Before sending, you must also select at least one Quality.
If you try to give away more points than you have with an Award, you will see a message under Points to Give indicating that you have insufficient points. Or, you may receive a message saying that you've given that individual the maximum amount of points - check out this article if you need a reminder of the Too Much Love Rule. If you receive either of these messages, you can either send the message with no points, or you can go back to Add Badge or Edit points and reduce the number of points attached to the Award.
We hope this helps! If you have any questions, please reach out to us at Support@Kudos.com and one of our friendly team members will be happy to assist you.