This article is specific to Kudos Rewards+. If your organization is using Kudos Rewards®, check out this article to learn how to view your reward history: Kudos Rewards®: How to Review Your Redemption History

To view your order history, access your Rewards+ storefront by clicking Rewards­+ in your Kudos® account. This will launch your storefront in a new browser tab.
Click My Orders in the top, right-hand corner of your storefront:
All of your previous orders will be shown here. You can see the date your order was created, the points value you redeemed for each order, and the status of each order.
To view the specific information for each order, click Details: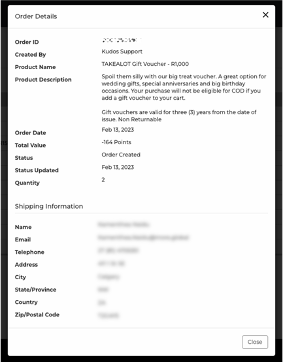 If you have any questions about an order placed through Rewards+, please reach out to our Support Team by email support@kudos.com or through the Support widget in your Kudos® account.