The Kudos platform allows multiple Points related settings and setups. The Points menu settings can be accessed by Super-Administrators only from the Admin menu > Account Settings > Points tab.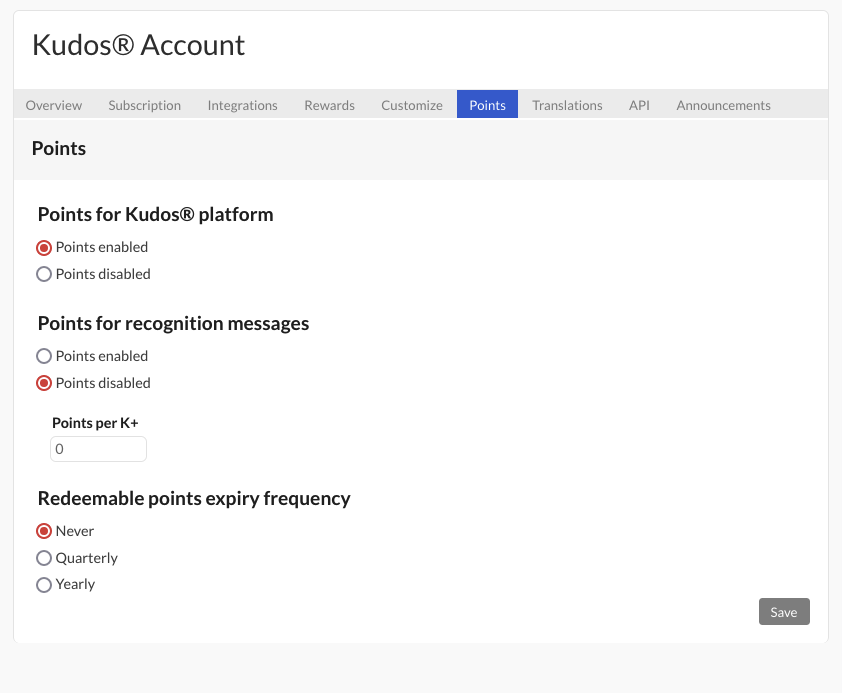 The first option presented in the Points tab, Points for Kudos® platform will allow the account Administrators to enable or disable points throughout the organization. This setting will be applied organization wide and to all users within the account with no exceptions. Please note that if Kudos Rewards® are a consideration in your recognition program, this option must be enabled in order for users to access these features.
The second menu option, the Points for recognition messages menu, will allow the account Administrators to set the points policy in regards to the 'Give bar' recognition only. More specifically, this option will allow to enable or disable points associated with regular recognition and K+ endorsement. If disabled, any recognition messages sent (Thank you, Good Job, Impressive and Exceptional, as well as K+ endorsement) will not be associated with any points.
Please note that if Points for recognition messages is set to disabled, it will only affect regular recognition (TY, GJ, IM and EX) while the Awards/Badges recognition options will not be affected, and continue to allow points to be associated with this type of recognition, should they abe set up this way. Awards/Badges access must be specifically granted to all non-admin users. Please read the following article for more insight on the Award/Badges permission settings. Finally, the Points per K+ option will allow you to set a custom point allocation for the K+ endorsement. This sub-setting will only be in effect if the Points for recognition messages is enabled.

The third and final menu option, Redeemable points expiry option allows you to enable automatic points expiration for any outstanding, non-redeemed points. Redeemable points can be set to never expire, or to expire on a quarterly or annual basis, following the calendar year. Points expire at midnight UTC. All users will receive an email notification two weeks prior to the expiration date reminding them to redeem their points.
We hope this helps! Please feel welcome to reach out to our Support Team at support@kudos.com if you have any questions.