When running a campaign, you can send out Badges via Kudos® Awards to those who participated. Badges are a fun addition to the Awards function in Kudos® and can be used with or without points as a great way to:
Recognize participants in your campaigns. Sending out Awards & Badges to those who participated builds excitement for the campaign while recognizing and celebrating users for joining in.
If you are hosting a contest, you can use Badges and Awards to celebrate the winners. You can attach points to the Award, which provides you with an easy and effective way to hand out the prizes! We've provided the information below to guide you through sending an Award with or without points.
In this article:
You can send Kudos® Awards without Badges, but we encourage you to use Badges to personalize the experience for your users. When you add a Badge to a Kudos® Award, the recipients can click on the Badge to view it as a Certificate. The Badge will be displayed on their Me page under the My Awards widget for them to showcase and refer back to: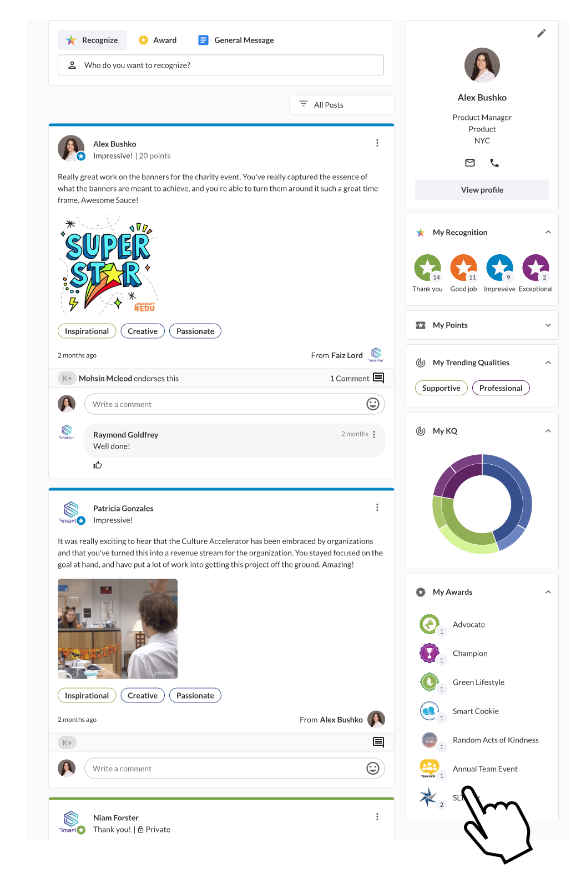 How to send an Award with a Badge
Awards can be sent through the Give Form or through Recognition by Admin. Recognition by Admin is used when you are sending the Award on behalf of another user, such as a leader in your organization or an HR Account. We recommend that the Award is sent from a leader in your organization as this can have a great impact on your users. It shows that leadership has visibility to those participating and is celebrating those individuals. An HR Account can also be created so that you can routinely send out Awards without worrying about Point Allocation.
To send the Award from yourself, you can use the Give Form. This article will guide you through sending an Award: How to Send a Kudos® Award.
This article will guide you through sending an Award on behalf of a user other than yourself, through Recognition by Admin: How to Use Recognition by Admin.
❗️Important Notes for using Recognition by Admin:
If you are using Recognition by Admin to send an Award, the person selected in the From field must have the privilege enabled to send Kudos® Awards. Please note that if the user sending recognition through Recognition by Admin does not have permission to send Awards, the Award button will not be visible until the From field is filled with a user who does have Award permissions. By default, only Super Admins and Admins can send Awards. As an Admin, you can use Limited Admin Privileges to individual users to allow them to send Awards. We recommend enabling "Unlimited Sent Points" as well to ensure they do not trigger the Too Much Love Rule.
If your organization uses points and the Award is being sent with points, it's important to be mindful of the Points to Give balance of the person you are sending the Awards on behalf of. The Points to Give balance will be shown by the points calculator under the From

field. If you need to adjust the Sender's points allocation to accommodate the message, we encourage you to review

Points Overrides

.
As part of the Launch Program and the Culture Accelerator, the Kudos® team provides you with:
Your list of participants and/or winner(s), so that you can determine the Award recipient(s)
Pre-designed Badges, adjusted to your brand colors to use when sending Awards
We recommend sending these Awards as Public Messages so that your entire organization can see that those who participate are being recognized and, if it is a contest, to ensure transparency of the results. Having these public messages to showcase both participants and winners is a great way to draw attention to your organization's culture and remind the individuals of what they have been involved in. However, if you'd like to send an Awards message privately, you can do so by clicking the lock gear on the bottom left. More information on private messages can be found here: Private and Public Recognition Messages.
FAQ
If the Badge you would like to use has points locked, you will not be able to edit the points to send. You will be able to see that the Badge is locked when sending an Award when you see the "lock" icon next to the points value, shown below:

To learn how to unlock Badges, we encourage you to check out this article: Adding and Customizing Badges.
If the sender of the message (either through the Give Form or Recognition by Admin) does not have enough points to send to give all recipients the full points amount, you will receive a notification similar to the following example:
"This message is 750 points. You are 300 points short, but you can still make someone's day!"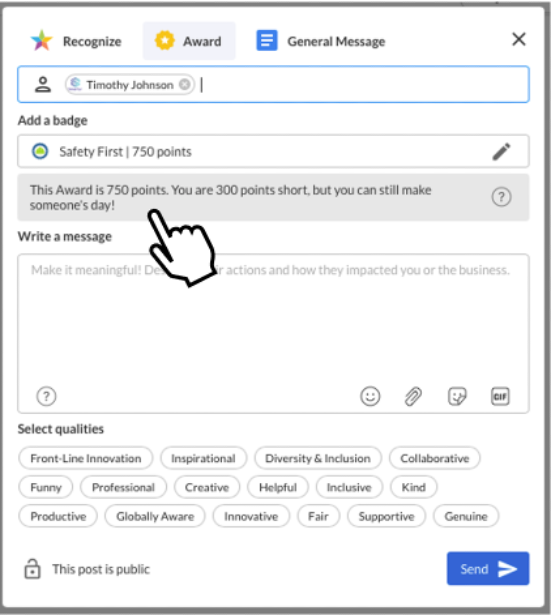 If the sender is short points to give when sending recognition, and you send the message without adjusting the points allocation, the message will automatically be sent without points.
If you need to adjust the points allocation to ensure the Award is sent with points, you will need to perform a Points Override. More information on setting a Points Override can be found here: Points Overrides.
Badge Permissions allows you to select specific users who can send a certain Badge. For more information on Badge Permissions, please reference this article: Badge Permissions.