This article will guide you through Adding and Customizing Badges.
Badges are a fun addition to the Awards function and can be used with or without points as a great way to recognize and congratulate a team member for a big accomplishment, new certification, or reaching an important goal. Your account comes with a default library of Badges you can utilize, or you can add your own custom designs.
By default, Super Admins and Admins are able to send Awards. Limited Admin Privileges can be assigned to Users to allow them to send Awards and badges.
If you'd like to learn more about setting up Badge Permissions to allow select users or departments to send specific Badges, please reach out to your Account Manager or our Support Team at support@kudos.com.
In this article:
View & Customize Badges
To ensure that Badges are turned on for your account, begin by navigating to Admin ⚙️
> Account > Customize > Giving Recognition and enable Badges.

To view and add Custom Badges, navigate to Admin ⚙️
> Account > Customize > Badges. Your account comes with a default library of Badges that you can add or remove. You can decide which Badges you want to make available by clicking the checkboxes in front of the Badge title.
To add a Custom Badge, click Custom and then click + New Badge under Badge Library. Add a name and description for the Badge, and upload the file from your computer. Badges should be 100px wide by 100px high. Once you've uploaded your Badge and given it a name and description, click Save.
You're welcome to design and add your own Custom Badges!
Editing & Locking Badge Points
If your organization uses points, you can set a default amount of points associated with each Badge, and either lock the points amount or leave it editable for the sender to decide when giving out the Badge. You can also lock the points at zero if you want a specific badge to always be associated with no points.
To edit points associated with Badges, navigate to the Admin ⚙️
> Account > Customize > Badges. Click on the Badge you'd like to edit. Here you can edit the name, image, description and activate the badge: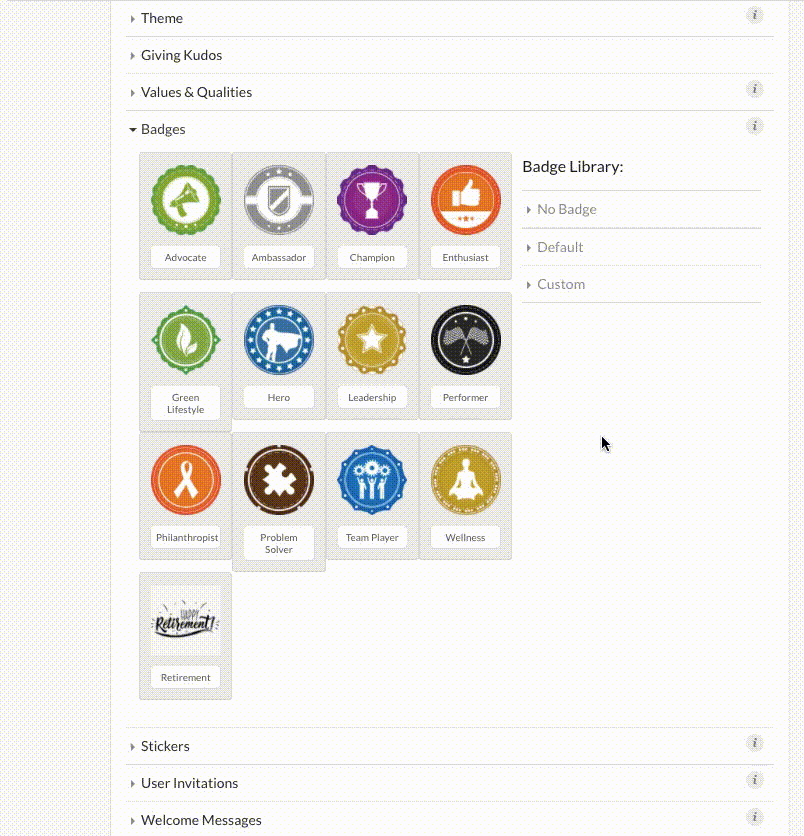 If points are not locked for a specific badge, the sender will be able to set the points amount to anything within their Points to Give allocation. When points are locked to a Badge, they cannot be changed when sending an Award. If the sender does not have enough points to give, the Award will be sent without points.
We hope this helps! If you have any questions, please reach out to us at support@kudos.com and one of our friendly team members will be happy to assist you.