The Kudos® platform is available in many different languages! As an Administrator, you can update language settings, and add translations for Custom Badges, Titles, Values, or Qualities for your Kudos® account. In order to use Translation, you must have at least two languages active in your Kudos® account. To add an additional language to your platform, navigate to Admin Gear ⚙️ > Account > Translations.
Click the language you'd like to add to your account. This will add the selected language as an option for users to override the company's default language for their individual accounts. If a user updates their personal language settings to any of your available options, they will see the basic Kudos® site in their preferred language. Any custom content - such as messages, comments, Announcements, or Spaces – will be shown in the original language.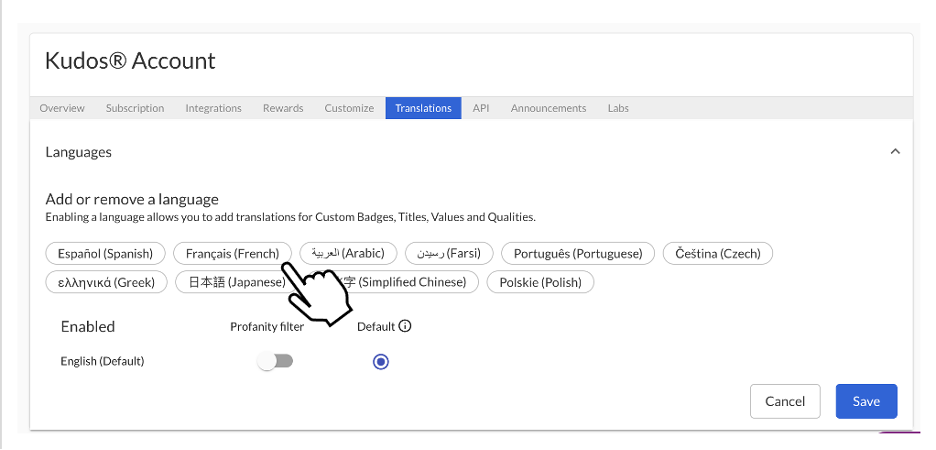 Otherwise, users will see your organization's Kudos® account in the default language. You can change the default language, by clicking the default option beside your desired language, shown below: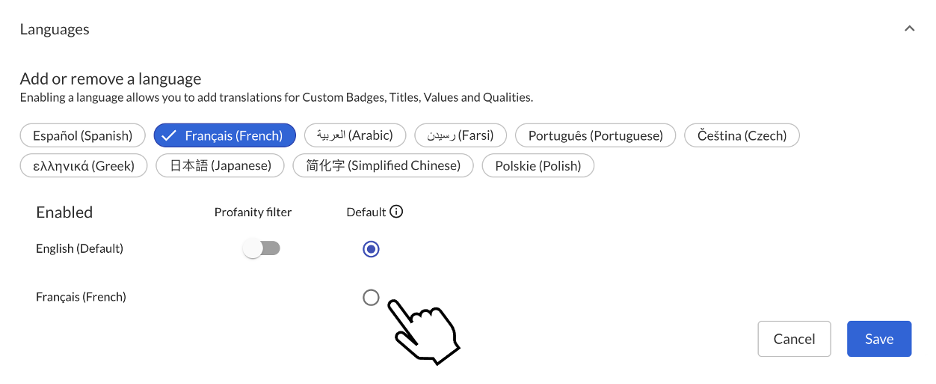 As an Administrator, you can enable the English Profanity filter by clicking the toggle beside "English". At this time, the profanity filter is only available in English. The profanity filter will block out the profanity using asterisks (*), but the message will remain on the wall. Please reference this article to learn how to remove messages from the wall: Monitor and Remove Wall Content.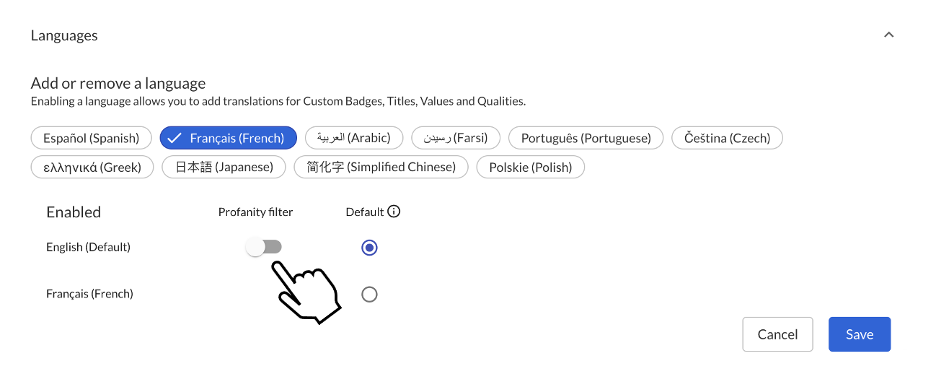 Once you've added at least one additional language to your account, you will see Translation options available for Custom Badges, Titles, Values and Qualities. Click on a tab to set up translations: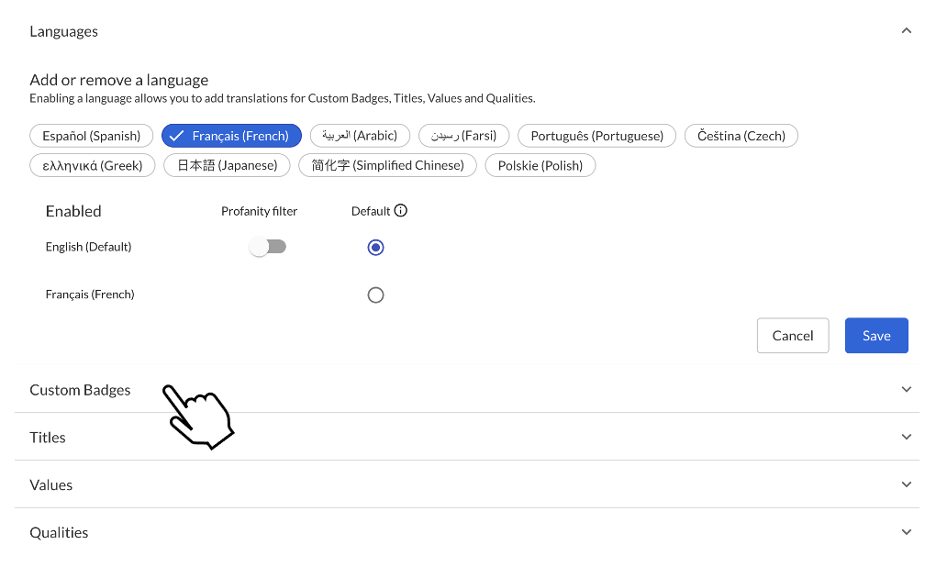 Select the item you'd like to translate: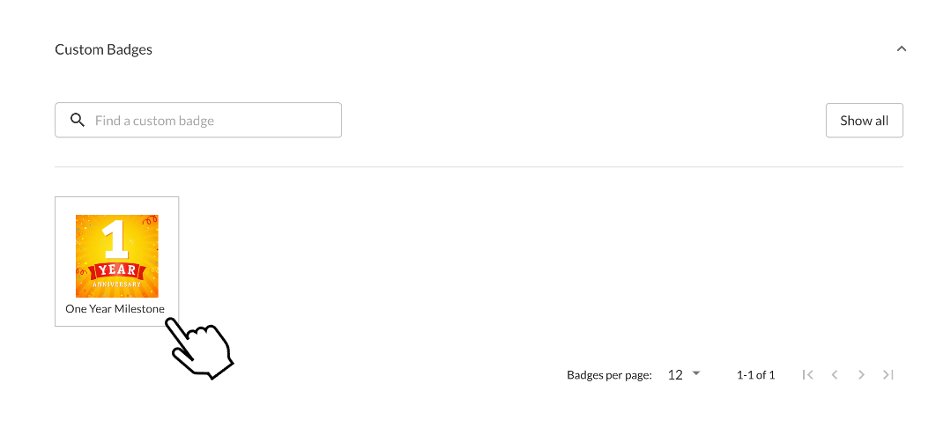 Select the language you'd like to add. If you need to add additional languages, please follow the instructions above. Once you've selected the language you'd like to add, you will be able to add the appropriate translation.
❗️All translations must be added manually.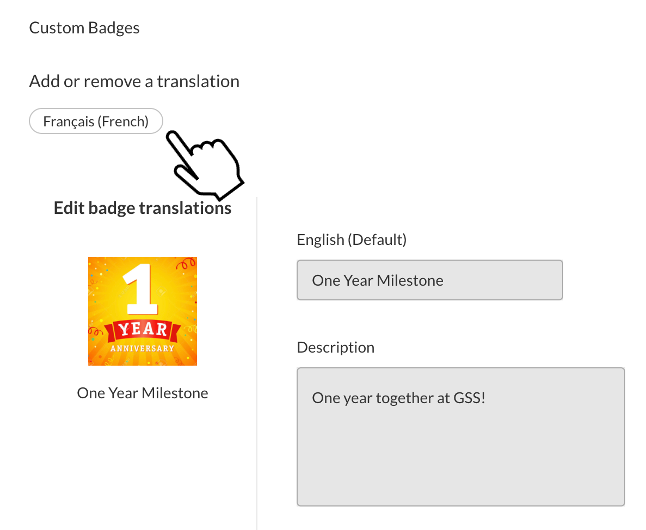 Add your translation, and click Save: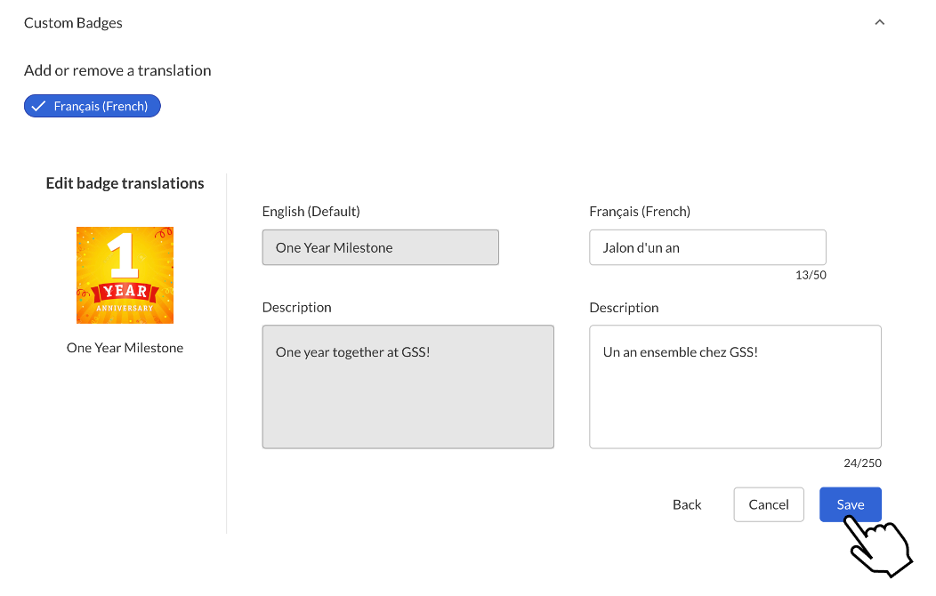 You will need to repeat the steps above for all Custom Badges, Titles, Values and Qualities you would like to translate. Once a translation has been saved, it will be visible to any users using the translated language.
We hope this helps! If you have any questions, please reach out to us at support@kudos.com and one of our friendly team members will be happy to assist you.