Recognition by Admin allows administrators to send Kudos messages on behalf of another person.
Kudos messages sent through Recognition by Admin work the same as a regular Kudos message (including sending Kudos messages to a group or department) — the only difference is that the points attached to the message will come from the person entered in the From field. You can access Recognition by Admin by going to Admin ⚙️
> Recognition by Admin
By default, only Admins have access to give recognition through Recognition by Admin. A User can be granted Limited Admin Privileges that allow them to access Recognition by Admin. Instructions on setting up Limited Admin Privileges can be found here.
The Recognition by Admin interface looks much like the regular Give Recognition interface; the only difference being the extra field where you select the sender (Kudos From).
Please be careful when recording these Kudos messages as they are irreversible! It's important to be mindful of the Points to Give balance of the person you are sending Kudos messages on behalf of. Their Points to Give balance will be shown by the points calculator under the From field.
If you are using Recognition by Admin to send a Kudos Award, the person selected in the From field must have the privilege enabled to send Kudos Awards.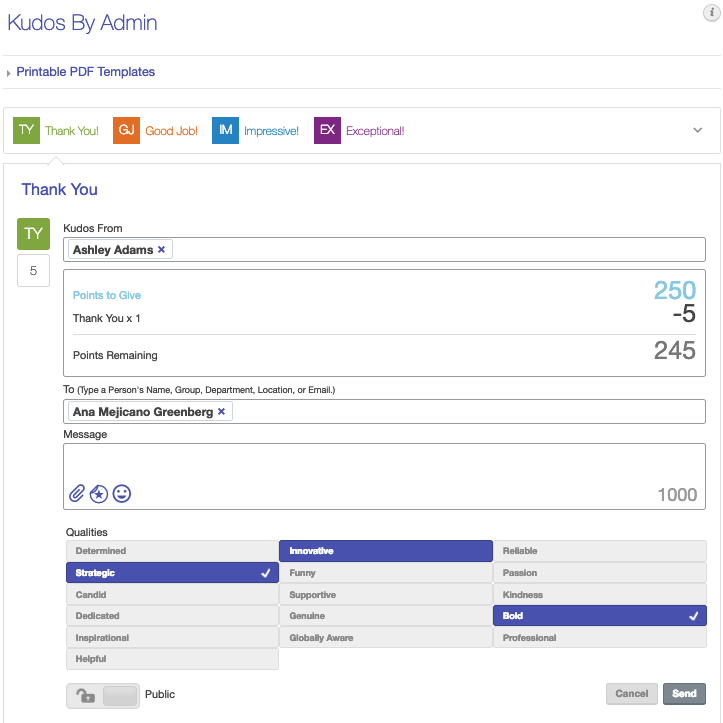 We hope this helps! If you have any questions, please reach out to us at support@kudos.com and one of our friendly team members will be happy to assist you.