Badges can be attached to Awards, which are a great way to recognize and congratulate a team member for a big accomplishment, new certification or reaching an important goal. Kudos comes with a default library of Badges that you can add or remove.
To View and Customize Badges:
⚙️ 
> Account > Customize > Badges

To add a Custom Badge, click Custom > + New Badge under Badge Library. From here, you can type in the Badge's name and description, and upload the file from your computer. Badges should be 100px wide by 100px high. Once you've uploaded your Badge and given it a name and description, click Save. You can decide which Badges you want to make available to choose from by clicking the checkboxes in front of the Badge title.
You're welcome to design and add your own Custom Badges, or you can purchase a Kudos Success Services package to have your Badges custom designed by one of our talented designers.
How to Lock Badge Points:
⚙️ 
> Account > Customize > Badges
Along with customization of a badge, you can also allocate points to each badge. When entering points and saving them, the system will ask whether you want to Save or Save & Lock. By pressing only Save the sender of the badge will be able to change the point amount associated with the badge. When points are locked then they cannot be changed while giving an award with this badge.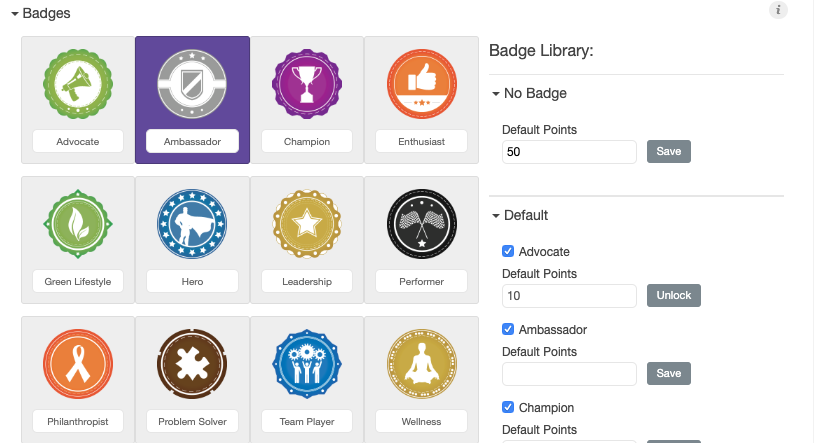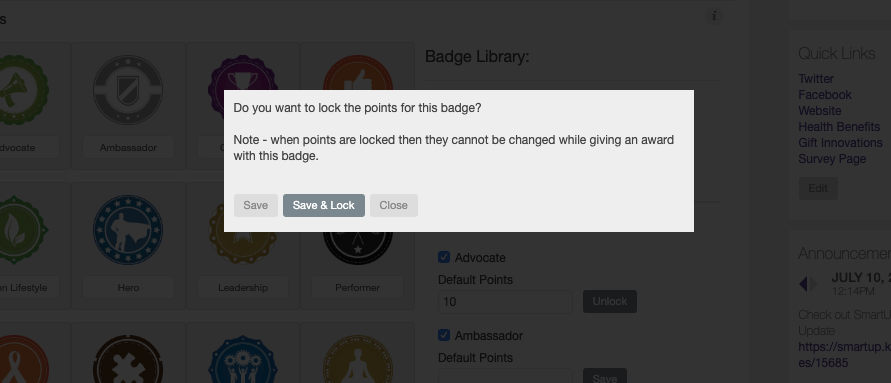 We hope this helps! If you have any questions, please post a comment below and one of our friendly team members will be happy to assist you.